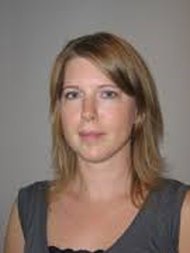 Alumnus - obtained PhD degree in June 2018
Dr. E.(Esther) M. Ter Braack  
Phone: +31 53 489 4051/ 1116
E-mail: e.m.terbraack@ utwente.nl
General information
Hi, my name is Esther ter Braack. I was born in Enschede on June 4th 1984 and grew up in Haaksbergen. During high school I developed an interest in the human body, but physics and mathematics were also favorite subjects. Therefore, I started to study Biomedical Engineering at the University of Twente. After one year I switched to Technical Medicine, because this study offers more possibilities for patient interaction. Throughout my education the human nervous system fascinated me, so I chose the master 'Medical Signaling'. During the internships in the 5th year I realized that I'm especially interested in the application of techniques instead of developing them. I selected a graduate project that allowed me to measure patients and work in the hospital environment. At the thoracic Intensive Care Unit in the Medisch Spectrum Twente in Enschede I evaluated the use of electrical nerve stimulation in patients suffering from muscle weakness.  
Research interests
With transcranial magnetic stimulation (TMS) local electromagnetic potentials can be initiated in the brain. TMS can be applied as therapy and for functional neurological tests. The coil is placed over the head of the patient manually, which results in a certain degree of inaccuracy, thereby reducing the effectiveness of treatment. In addition, the preparation and calibration are very time-consuming with this manual placement. A new robotic arm will be developed, which can be used to hold the coil in place. Eventually, the accuracy of treatment will be increased and new applications of TMS will be possible.
This specific part of the project will focus on the clinical evaluation of the new TMS system with robotic arm. The repeatability of the manual placement of the coil and two different robotic arms will be compared. Because of the expected increase in accuracy with the new robotic arm, new opportunities for research arise. With the new TMS system the motor threshold and cortical inhibition and facilitation will be studied in healthy volunteers and epilepsy patients. The effect of anti-epileptic drugs will be evaluated with TMS in epilepsy patients.