Tuesday 31 January 2017
Wiendelt Steenbergen has been granted an STW Open Mind project 'Peppered skin, and keeping cancer under control'.
This is a one year project (grant 50 kEuro) to investigate the primary feasibility of killing circulating tumor cells through the skin. The underlying hypothesis is, that if all circulating tumor cells (CTCs) in the bloodstream can be killed, this will be beneficial for the patient. The idea is presented in this movie.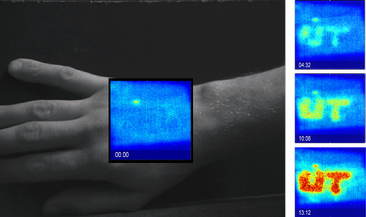 Skin perfusion imaged with the Twente Optical Perfusion Camera (TOPCam). 'UT' has been written using methyl nicotinate cream.
The project will focus on the amount of blood that flows through a certain skin area within a few hours time. We will investigate the possibility to enhance perfusion, for instance using creams on the basis of capsaicin (a red pepper ingredient) or methyl nicotinate. For this we will use the Twente Optical Perfusion Camera (TOPCam).
Contact: Wiendelt Steenbergen (w.steenbergen@utwente.nl)