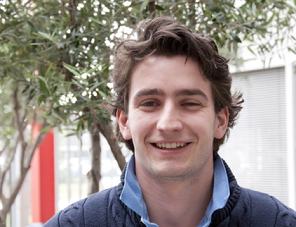 November 22nd, 2012 - BMPI congratulates Rogier Wildeboer with his prize for the best bachelor research performed in the Netherlands last year. The student biomedical technology performed his bachelor research in BMPI in the spring of 2012. His supervisors were Wenfeng Xia, Srirang Manohar and Wiendelt Steenbergen. Rogier investigated the use of higher harmonics to improve the image quality of photoacoustic images.
Wednesday November 21st, sixty preselected students had to present their bachelor research at the Student Research Conference in Utrecht. Rogier won the first prize: 1500 euro.
The Student Research Conference is an initiative of the Roosevelt Academy and the VSNU. The yearly event was held for the third time this week.
For more information about Rogiers research and the prize:
http://www.utwente.nl/archief/2012/11/beste_bachelor_onderzoek_2012_van_ut_student.docx/
For more information about photoacoustic imaging, please contact Srirang Manohar: s.manohar@utwente.nl