Introduction 

WebPA is an online automated tool that facilitates peer moderated grading of group work. Students carry out a group task, which is followed by an assessment of the group's performance. The results can be displayed in various formats (for example anonymous or non-anonymous) and integrate with the grade center.
Why Peer Assessment
There are several drivers for using peer assessment when reviewing group and team work activities.
Assigning one grade to a group of students for a project is inherently unfair. Students commonly complain that their contributions are not being given the credit they deserve, and that group members who didn't pull their weight receive the same grades as those who contributed far more.
Student abilities can be graded on a range of key skills they will be expected to demonstrate after graduation, e.g. leadership, communication, report writing, etc.
Peer review prompts students to reflect and assess their own abilities, as well of those of their team mates.
Why WebPA 
Easy to set up, run and reuse computerised assessments.
Has the ability to handle large class and group sizes, as well as any length of assessment.
Calculates the final grade automatically.
The scoring algorithm can be changed, and results are displayed in real time.
 Improves assessment marking accuracy,as there is a reduced risk of errors being introduced when transcribing or manipulating data in spreadsheets.
WebPA For students
Provides assessments that can be taken at any time from anywhere.
Students can work on the assessment at their own speed, and can revisit their scores until satisfied.
Allows anonymous submissions.
Example WebPA questionnairre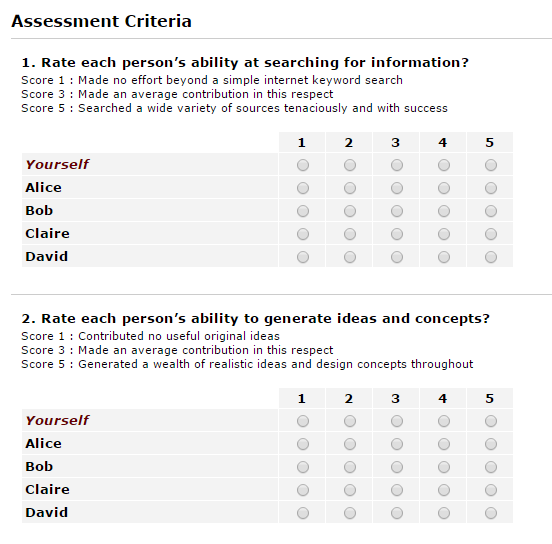 Example WebPA results (anonymous):