Thursday 15 December 2016
News about technology in teaching and learning at the University of Twente.
Ready for interactive video?
We can all understand that a student watching an instructional video (even if it is a short one) is quite passive. This might not lead to the best possible learning result for the student. And here is where interactive video comes in.

The TELT team has recently finished some research into the current possibilities of interactive video. With this technology, we can enrich a video (e.g. with a quiz question) so the student gets actively engaged with the learning material. After answering the question, feedback can be provided to further guide the student's learning. In 2017 we would like to start some pilot projects with lecturers using interactive video. We will be partnering with a Dutch company called HiHaHo. If you are interested, please send us an email.
Project review – online course nanotechnology
Some of our lecturers from the faculty of Science and Technology (TNW) are creating their first free online course on nanotechnology, in close cooperation with the TELT team. The lecturers are in the process of writing video scripts, articles and quizzes. The lead educator for this course is Martin Bennink (see picture).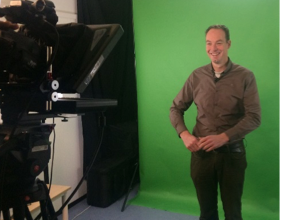 The course is focused around the key message: "What is the potential for nanotechnology in medical applications?"
We are working hard towards the deadline of 20 February 2017, when the course will be launched on Futurelearn. By making an online course, the educators  are also contributing to their own professional development, learning to perform in front of the camera and innovating education.
Do you want to innovate your teaching practice by developing an online course? If you would like more information please contact Eduardo Hermsen. Recently we were featured on the national radio, NPO 1 Journaal, in an item about online courses. You can hear and read more at their website (in Dutch).
Solution spotlight – Ephorus
Students are less likely to commit plagiarism if they know that their work will be checked by a plagiarism detection tool. At the University of Twente, such a tool is available. It is called Ephorus. Student documents can be checked for similarities against internet sources and other student papers uploaded by students or instructors via Blackboard or the Ephorus web application. The results of the check are returned in a report, which displays the similarities between a submitted document and found sources. Interested? See the detailed information on our website.
Upcoming workshops
As TELT team we deliver workshops and training sessions for you to become more familiar with using technology for learning. There are two courses that are scheduled for the next months:
·      The next run of our course on How to create a microlecture in a professional studio is on 14 February 2017.
·      How to create an instructional video, on 21 February 2017 and 13 June 2017, and
·      How to blend your education, on 9 March 2017.
More information
TELT stands for Technology Enhanced Learning and Teaching. If you would like to learn more about our expertise, please visit http://www.utwente.nl/telt or contact us directly through email: telt@utwente.nl.
The TELT team
Members of the TELT Team are Laura Bergmans, Martin Bosker, Eduardo Hermsen, Wytze Koopal, Ard Kosters, Marloes Luttikhuis, Bé Meerman (who is the coordinator), Chris Rouwenhorst, Karen Slotman, Dennis Vierkant, Martine ten Voorde-ter Braack and Petri de Willigen.