Combining knowledge for eHealth solutions
A typical eHealth scenario revolves around a patient or user group suffering from a chronic condition. Our goal is to develop tools that can help users to self-manage their condition, or even to prevent or delay the condition from arising, thus limiting his dependency on professional healthcare. To achieve this, we combine the knowledge and experience from all required disciplines at the University of Twente, such as biomedical engineering, computer science and behavioral science.
 There are five key research lines that need to be mastered in order to deliver successful personalized eHealth solutions.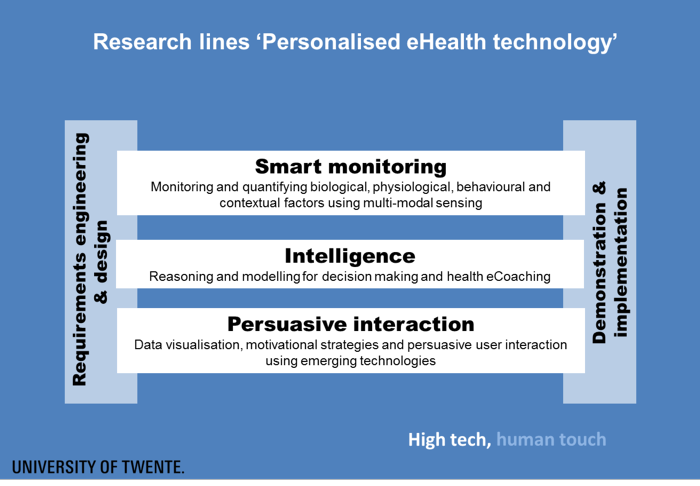 Research lines
Translational research
In our research, we aim to cover the whole chain from development towards contributing to sustainable implementation in daily care. The environment in which technology is being co-developed with end-users and other stakeholders can be described in three categories:
Living lab type 1: the environment where the first experiments with technology take place to show and test working principles. Often with students and a loose experimental set-up. Examples are the labs of the research groups that are involved in the eHealth programme.
Living Lab type 2: a lab where reality is simulated to test the technology in a realistic setting but in a safe and very controlled environment. An example is the eHealth house that is being realized in the TechMed Centre.
Living Lab type 3: technology is used in the real-life, the natural environment where people live and do their things of daily living. We realize these environments in cooperation with our external partners.
We aim to cover the whole translational chain from development towards contributing to sustainable implementation in daily care.
Figure: translational research, from the first experiments to implementation in real life. Click for a larger version.