Wednesday 12 January 2022
The European Research Council (ERC) has awarded a 'Starting Grant' to three UT scientists. These 'early career' grants go to Nienke Bosschaart, Sander Huisman and Chris Baeumer. In this round, 379 Starting Grants were awarded, worth an amount of 619 million euro:  for each individual researcher an amount of 1,5 million euro, for a period of five years.
President of the European Research Council Prof. Maria Leptin said: "Letting young talent thrive in Europe and go after their most innovative ideas - this is the best investment in our future, not least with the ever-growing competition globally. We must trust the young and their insights into what areas will be important tomorrow. So, I am thrilled to see these new ERC Starting Grant winners ready to cut new ground and set up their own teams. Some of them will be coming back from overseas, thanks to the ERC grants, to do science in Europe. We must continue to make sure Europe remains a scientific powerhouse."
Lactins-and-outs
'Pioneering methods to unravel lactation insuffiency'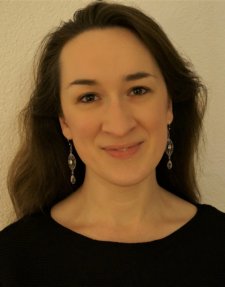 Dr. Nienke Bosschaart, Biomedical Photonic Imaging group.
Nienke Bosschaart will do research on breast feeding: although the World Health Organisation (WHO) recommends breast feeding for the first six months, for 10 to 15 percent of women it is not possible to give sufficient amounts of milk, while even 40 to 50 percent stops breast feeding earlier, because they feel it is not enough. Core questions for Bosschaart are: what is it that nursing infants actually drink, and how thus the mammary physiology regulate the milk transfer? To find out, she wants to use a combination of non-invasive optical techniques. The main challenge is to get answers to the various questions by integrating these techniques: answers that wil have a clear impact on individual and public health.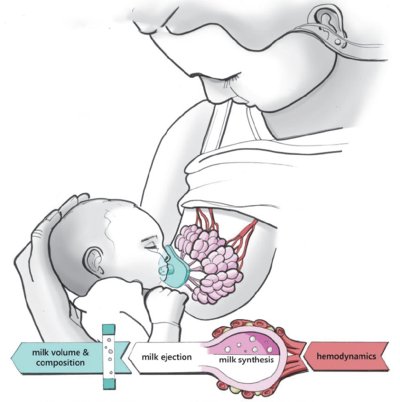 Meltdyn
'Understanding the melting dynamics in turbulent flow'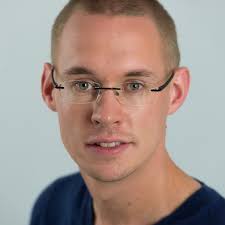 Dr. Sander Huisman, Physics of Fluids group
Predicting the melting process of an iceberg or glacier, is often not even close to the actual physics, the difference can be a factor 100. Modelling dynamics is also complex in chemical processes in which several boundary layers play a role. One of the common beliefs is that the shape of an object will be smooth caused by melting. In reality, flows around melting objects cause a rough surface. This leads to completely different outcomes. The 'multiscale' nature – from micrometers to kilometers – of processes, in a turbulent environment and with interaction at the boundary layers, makes it very complex. With fundamental fluid dynamics as a starting point, Sander Huisman wants to reach a better understanding. He is not only developing new models, but he will also prepare experiments including 3D imaging, to investigate the mechanisms of melting and dissolution. He expects this will give valuable new insights in mechanisms and causes of climate change.
Interfaces at work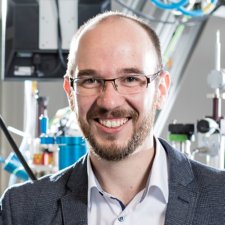 Dr. Chris Baeumer, Inorganic Materials Science group
Electric charge transport at the interface of solid and fluid plays an essential role in photosynthesis in nature, but also in technology like creating green hydrogen. Experiments in the lab often have shortcomings: one of the main is that you can't evaluate the charge transport in a system that is in full working order – operando. For overcoming this, the research group recently started developing a unique machine that will be capable of this: there is an active solid-liquid interface and the charge transport can be measured. In this way, it will be possible to measure how the surface builds up, while at the same time, charge is transported and can be measured instead of predicted. This new facility is the basis for the X-Ray spectroscopy techniques Baeumer is going to develop. This will lead to better design rules for electrochemical energy conversion, and so will mean a lot to sustainable energy and better ways of creating hydrogen.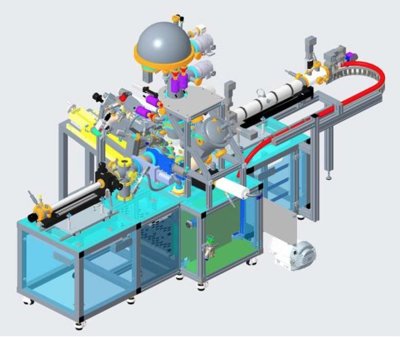 At the basis of Christoph Baeumer's research is the innovative HAXPES (hard X-ray photoelectronic spectroscopy) machine that is currently being developed at UT.