Thursday 20 February 2020
Cardiovascular disease is the No. 1 cause of death worldwide. There is no cure yet for many of these conditions. Ninety-one percent of newly developed drugs do not make it through clinical trials, as tests in animals and 2D models are unable to simulate human heart function reliably. The UT spin-off River BioMedics is working on 3D models of the heart that can do this, and today the company is being awarded Take-Off Phase 2 for early-phase projects by the Dutch Research Council (NWO) and the Netherlands Organisation for Health Research and Development (ZonMw).
Prof. Robert Passier came to the University of Twente over four years ago to integrate his knowledge of heart stem cells with the technical expertise here in Twente, including 'organ-on-a-chip' technology. Passier specialises in heart cells produced from what are known as 'human induced pluripotent stem cells'. These stem cells can be produced from anyone's body cells, for example from blood or urine. The addition of specific biological factors enables them to grow into heart cells. As these cells are of human origin, they can make a major contribution to research into heart disease.
Video clip 1: Beating mini heart
So far, however, a lot of this has been done in 2D. As the heart is a 3D pump, 2D in vitro models do not accurately simulate heart function, it turns out. Passier has therefore developed a technique, in collaboration with postdoc researcher Marcelo Ribeiro, for creating a miniature heart from these heart cells that can beat by itself (see video clip 1). Passier explains, "The next step is to carry out functional tests on the mini-heart. By using stem cells from both healthy people and patients we will be able to compare the effects of potential drugs in these mini-hearts."
UT spin-off
Robert Passier set up the spin-off River BioMedics with his colleagues Marcelo Ribeiro and Lisanne Blauw at the end of January. With their combined background in stem cell biology, biochemistry, technology and medicine, they aim to raise the development of cardiac disease drugs to the next level. "The closer you come to the actual heart, the better you can predict a drug's effect and mechanism", says Passier. Marcelo Ribeiro and Lisanne Blauw are to head the startup in close collaboration with Robert Passier's department at the University of Twente.
3D cardiac strip
Another technology that the researchers are working on is a 3D cardiac strip. About a quarter of a million cells – far fewer than in the 3D mini-heart – form a 3D strip of cardiac tissue attached to two small flexible posts (see video clip 2). The contractility of the cardiac tissue can be determined from the deflection of the posts. This technology enables researchers to rapidly test the efficacy of new drugs, thus optimising drug selection for clinical trials in humans.
Video clip 2: A contracting, 3D cardiac strip
Take-Off 2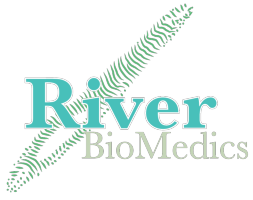 With the money from Take-Off 2 – a 250,000 euro loan for early-phase projects – the initiators aim to develop the heart strips to make them suitable for the fast screening of new drugs, and eventually to enable them to be sold to the first customers. Take-Off 2 was awarded today, 20 February, at the Dutch Research Council's headquarters in Utrecht. River BioMedics was previously awarded a Take-Off Phase 1 grant.