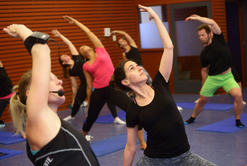 In these classes different movements from the traditional yoga, tai chi and Pilates are performed. Think about breathing, flexibility, static power, concentration and meditation. All in all it is a workout that brings balance to body and spirit. Your posture, leniency, coordination and balance will improve rapidly.


| | | |
| --- | --- | --- |
| Day | Time | Location |
| Monday | 19:00h - 19:55h  | SC 6 |
| Tuesday | 18.00h - 18.55h | SC 6 |
| Start | September 2023 | |
| Language | EN/NL | |
| Instructor(s) | Belinda/ Denisa | |
This group lesson is given in the form of an session throughout the year (with the exception of the UT vacations, holidays and occasional closure of the Sports Centre).
To participate in the sessions you have to be in possession of a valid reservation for the grouplesson. You can make a reservation via the website: https://sportsandculture.utwente.nl or via the app: Sports and Culture Utwente. A reservation for a grouplesson can only be done with an UnionCard with additional Fitness & Grouplesson subscription or Campus card and Grouplesson subscription.

If you would like to be informed of any news about the open sessions ( there's something new on offer, the session space has been changed, the trainer is ill etc.) you can join our mailing list. This mailing list is maintained solely to communicate information about the group lesson programs, and for no other purpose. Click here for registration for the mailing list. You can also find the latest news here.
More information?
Tel: 053-4891148
E-mail: secr-sport@utwente.nl