Sunday 2 February 2020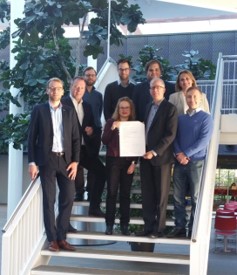 On November 28-29, 2019, the official project Kick-off meeting took place at the University of Twente in the Netherlands. Within the transnational meeting, all members of the project group came together to discuss the project's start by addressing various organizational issues and preparing the first intellectual output.
The members present include Holger Schiele, Klaas Stek, Gabi Maris and Vincent Delke from the University of Twente, Natalia Straub and Dennis Meyer represented the TU Dortmund, Elina Karttunen was present from the Lappeenranta University of Technology, Michal Tkáč from the University of Economics in Bratislava, and Stephen Kelly and Peter Vangorp represented the Edge Hill University. As the first main point of the meeting, all members developed and agreed on a twelve-point project charter, in which the standards on how to organize the collaborative project were set.
The agenda of the meeting coffered important organizational and administrative agreements. The University of Twente takes the leading role in project management and will facilitate the corresponding institute for future project activities. Further, a professional management of the project will be ensured by a well-organized project plan and previous experience with international collaboration project of various members. The new project PERSIST will build on the experience gained in the predecessor project PERFECT. For more details on the PERFECT project, see project-PERFECT.eu .
As the central point of the first transnational meeting, the project group started to work on the first intellectual outputs, addressing the theoretical foundation of the project. An in-depth literature review will be conducted to analyze the current state of the literature on future purchasing and supply management skills in connection with the so-called Industry 4.0 (I4.0). Also, the first intellectual output will analyze future educational methods on a theoretical basis. The results of the theoretical work will be used for the second intellectual output, focusing on insights on future PSM skills obtained from the industry.
From this moment onwards, the PERSIST project is live and will hopefully follow the success story of the PERFECT project. The project group is looking forward to the exciting and challenging years to come!