Date and Venue
P-NUT PhD & EngD - 24th of February 2023
Location: Design Lab, at the University of Twente
Room: Ideate and Conceptualize (See Image)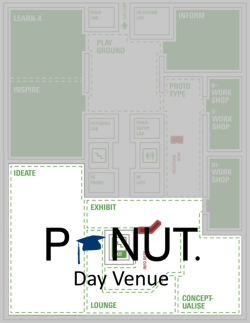 This year, the Design lab is the venue for the P-NUT day. In particular, the Ideate & Conceptualise. To get there from the O&O square you have to walk into the main entrance of the Gallery. Then take the far left hallway up to the end. You will end up at our venue. You can also follow the signs on the day of the event or ask the service desk right at the entrance of the Gallery.
Program Overview
Start

End

Activity

Content

12:00

12:30

Reception & Registration

You receive a nametag and goodiebag after which you can enjoy a drink

12:30

12:35

Welcome & Opening

Introduction to the event by our great host and hype train driver: Anton Atanasov

12:35

13:00

P-NUT board update

Akhil Pallamreddy and Peter Slijkhuis mention 

13:00

13:45

Keynote 1

The first keynote is Sjoukje Philips who will talk about the World Weather Attribution initiative and her insights on how to communicate science with non-scientists. (More info below!)

13:45

14:00

Icebreaker

Get ready for some physical exercise in a short game about opinions and experiences!

14:00

14:20

Break

Enjoy a drink on P-NUT while chatting with your fellow PhD candidates

14:20

15:05

Workshop Session 1

Broaden your skillset in one of our informative and fun workshops (options below)




15:15

16:00

Workshop Session 2

16:00

16:15

Break




16:15

17:00

Pitch

The Chain Company and The Expat Center pitch their work in connecting and informing Expats. Cancelled, Update will folow!

17:00

17:45

Keynote 2

The second keynote is Juliane Schillinger who will talk about Water & Conflict Management and the uncertainties of doing research. (More info below!)

17:45

-

Closing & Drinks

We finish the day by discussing the talks and workshops of the day while enjoying some drinks and snacks on P-NUT!

18:30

-

Dinner at Twentsche Foodhall

After the clsong there is an opportunity for people to sign up for the dinner afterwards. Only limited places. First 30 people to sign up get to join (you officially sign up at the reception).
The time slots provided are a reference. We give no guarantees regarding punctuality!
Keynotes
Parallel Sessions
Workshop Session I
Workshop session II
Organizers
P-NUT passes the borders of faculties, departments and even universities by bringing doctoral candidates with different backgrounds together to share their experiences and help each other to grow and become more efficient in their work. Our main objectives are to bring people who share similar interests together in both a professional and informal way, to inform them on the important aspects that might affect or benefit their careers as scientists and share and defend the rights of the PhDs at the UT. These objectives define the three main goals of P-NUT: connect, inform and represent the doctoral candidates of the University of Twente. 
The P-NUT board organizes this event with Mario Boot being the main coordinator
Sponsors