Friday 30 April 2021
After a number of successful online Alumni Career Cafés for students over the past year, our Alumni Office together with the UT PhD Network (P-NUT) and the UT Career Development Centre hosted on April 21st a first ever doctoral students & alumni mentoring event: the online PhD Career Café. We look back at a successful evening!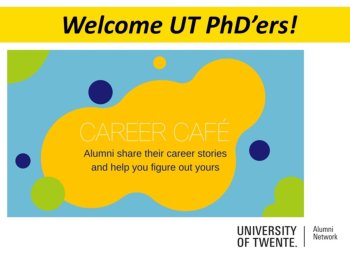 During the 2.5 hours long gathering we had 11 enthusiastic PhD alumni mentors (who graduated 8 - 10 years ago) share their professional experiences with over 40 Twente doctoral candidates during several 'speed date sessions'. Participants had the opportunity to ask their career related questions to get more insight into what different career paths look like. Great tips and good advice were shared freely and new connections were made.
Mentors from all over the world joined us (the upside of hosting online events!). We had PhD alumni from the US, Switzerland, Ireland, France and the Netherlands (to name a few) representing a range of sectors.
We got some great feedback from both participants and mentors. Doctoral candidates told us the event was very useful, interesting and inspiring. Our PhD alumni enjoyed sharing their experiences and were happy to connect with participants as well as give something back to the university community. With the feedback we got, we will definitely organize another PhD edition of the Career Café later this fall.