Thursday 10 December 2020
Stefan Kooij, programme director of Applied Physics, and Janneke de Sousa, programme manager at the Career Development Center, both love people. Together with HR, Stefan works to get the best for his colleagues, which can sometimes lead to heated discussions. Janneke helps people in her HR capacity. How do you create the best dynamics of work and staff on the UT campus? Together, Janneke and Stefan explore the unknown.
Stefan: 'Hi, Janneke. I don't think we've met before. What do you do?'
Janneke: 'Hi, Stefan. I work at the Career Development Center (CDC). My colleagues and I are designing an extensive development programme, both face-to-face and online. This is aimed at all UT staff, from the moment they start at the UT to the moment they leave. Our training courses or coaching help individual members of staff and teams in their personal or professional development.'
Meaning
'I used tobe a policy advisor, but I prefer working with people to writing about them in policy plans. And that's worthwhile too, it just doesn't suit me so well. For me, meaning is important. I meditate, I walk in the countryside and do yoga – I kind of have to, being the daughter of a yoga teacher. In this way I try to create a calm mind, feel what my heart wants and stay true to that. Helping other people find their own wisdom makes me happy. That's the element of meaning in my work.'
The person and the employee
Stefan:'I immediately think of people first. What do you understand by that?'
Janneke: 'Well, I obviously have my own perspective.'
Stefan:'As a person or as an employee?'
Janneke: 'I can't differentiate between the two, Stefan.'
Stefan: 'I like that. So, as Janneke…'
Janneke: 'People first means that people are key, in my view. That we respect every person, with their own qualities and all their diversity. Not just on paper, but in the things we do. Even I sometimes roll my eyes in a meeting: there he goes again... But can I then allow that other person's perspective to exist and be genuinely interested in where it comes from? What does it require of me to be able to do that? And of us all?'
The "we" feeling
Stefan:'Who do you mean by "us all"?
Janneke: 'I mean everyone at the UT. But that's a good question. "We" means together, but we might not always experience it that way. To get that "we" feeling, we need shared goals which are big enough to unite everyone. Shaping 2030 sets a couple of such goals.
'We also generate a "we" feeling by creating a personal connection. Today, you and I are no longer 'the programme director' and 'the person from HR', but Stefan and Janneke. Everyone has their own story. It's good to get to know it. In recent years, I've had so many good conversations. It's always special when people trust you enough to let you get close to them in a personal conversation.'
Stefan:'I agree. Interestingly, it reminds me of The Crown. Do you know that series?'
Janneke: 'Yes, I do. In fact, I'm watching it now. I love English series. I enjoy British humour, the lovely settings and the real people. And The Crown has been beautifully made.'
People above systems
Stefan:'I love watching how Elizabeth develops. I always felt she was a bit bitchy, but now that I am getting to know her story, I sometimes feel sorry for her. Your people perspective also gives me a good feeling. To be honest, when I saw the letters HR, I thought: Oh dear. I sometimes find it hard when HR colleagues think in terms of systems.'
Janneke: 'I understand where that feeling might come from. But I know for sure that all our HR colleagues have the best intentions. For all of UT and so also for you. However, systems like UFO[University Job Classification System, ed.], which I think you're referring to, don't always make it easy to focus on the people. That's something I'd like to scrap.
Stefan:'Ah, now that's interesting! I'm not a fan of UFO. Why would you want to scrap it?'
Janneke: 'UFO is rigid. Within UFO, a job profile is a set of job requirements which an employee needs, in order to perform a specific job. I'm not a great believer in that. I don't feel you can expect exactly the same of all employees who share a profile. We need to use everyone's unique qualities in the best way that we can. And give everyone the opportunity to grow. The challenge is to link the work to be done at the UT and the talents of the UT staff as well as possible.'
Trust over control
Stefan:'I see what you mean. So, how will we set about achieving that?
Janneke: 'I'm not sure yet, that's something we'll all have to discover together. It starts with the right basic attitude. Are we willing to live and work with each other based on trust rather than control? How do we manage uncertainty and unpredictability? Are we prepared to abandon frameworks and explore the unknown? Courage over comfort is the motto, isn't it? I'm certainly not suggesting wild west scenes, but I'd like an open and creative dialogue about how we shape the UT.'
'With my colleagues at CDC, I look for that innovation. For example, by not only focusing our programmes on new knowledge in the mind but also creating room for reflection and meaning. And we study new forms of learning and development. Communities and experimenting play an important role. We can only move forward if we are connected. Many of us will feel this more strongly than ever, given the times we live in.
Stefan: Yes, I totally agree.'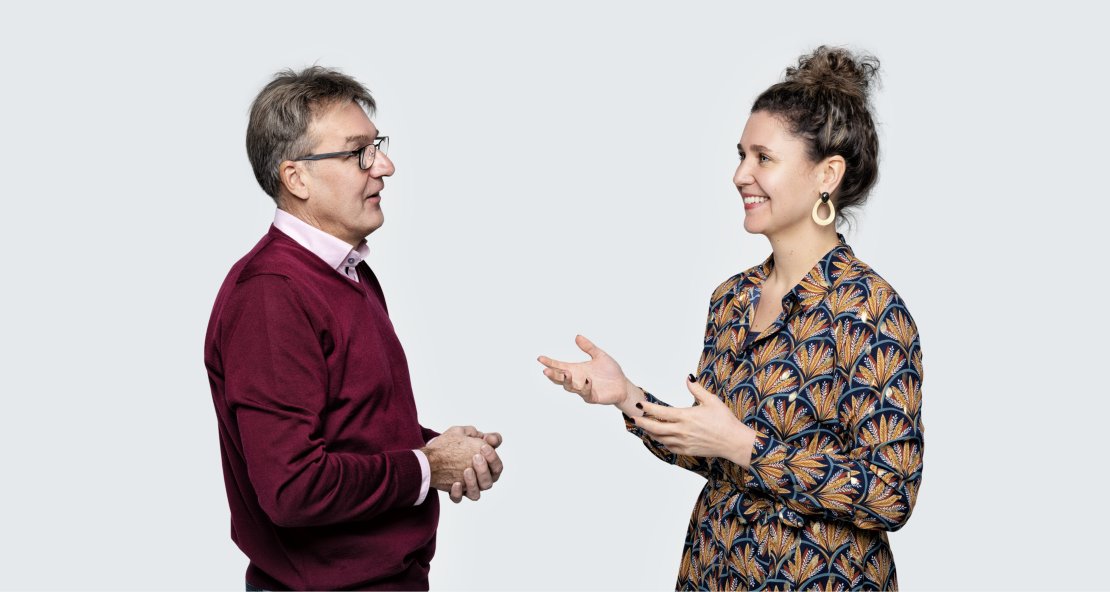 Janneke: 'Experimenting also means being able to deal with "not knowing", being comfortable with that and trusting that we will find a solution together. It's important to be allowed to make mistakes so that we can learn from them and continue to reinvent ourselves.'
Stefan:'An interesting challenge, Janneke. Nice to have met you. You have definitely turned around my ambivalent relationship with HR. Thank you. And I never thought that we'd talk about The Crown. Next time we meet, I'll ask you what you thought of the last episode.'
Janneke: 'Haha. I'll definitely have watched it. Thank you, Stefan.'