Friday 4 December 2020
Sefora Tunc is doing a PhD in technology-supported inclusion of the elderly, at the Faculty of Electrical Engineering, Mathematics and Computer Science. She uses technology and design to create a better world, through amazing projects and products. She talks about them to Dr Hasib Mustafa, a researcher in the Chair of Laser Processing. A conversation about technology, tackling loneliness and being close - remotely - to your family.
Hasib Mustafa: Hi Sefora, nice to meet you! I've been doing some research about you. You do some fantastic projects! But let's start at the beginning. Who are you and where do you come from?'
Sefora Tunc: 'Thanks Hasib. I'm Sefora. I live with my family in Gronau, just over the German border in Nordrhein-Westfalen. Which is where I also grew up. I did my Bachelor's in Creative Technology at the UT, followed by a Master's in Industrial Design Engineering. Three months ago, I started on my PhD.'
Hasib: 'So, you could say that design has been the constant factor in your career so far? What got you interested in design?' 
Sefora: 'Well, I originally wanted to be a fashion designer. But I didn't think it would be easy to earn money in that. So, I chose the combination with technology. Not that I'm particularly technical. Programming and electronics are not really my thing. But I love design, and particularly the interaction with target groups and end-users. Working together to find innovations which really help us. I want to create a better world. That might sound a bit grandiose and abstract, but it's not. I start small. With the individual person.'
Socially desirable
Hasib: 'Interesting! As a researcher myself, I tend to focus on the interaction between substances and materials. How do you shape that interaction with people?'
Sefora: 'In my studies, I like to use participatory design. As a researcher, you can obviously interview people. But that doesn't tell you the whole truth. People often give socially desirable answers and hold back - intentionally or unintentionally - a lot of useful information. For example, if I ask you: "What did you do today?" You won't tell me that you breathed. Despite it being an important activity!
Participatory design works differently. You work with people from your research group on making designs. From these designs, you discover their main concerns, issues and their underlying needs or wishes. I don't normally use the designs themselves. I extract the essence and use that as a basis for further development.'
Hasib: Have you got an example?'
Sefora: 'In my thesis, I wanted to address the issue of loneliness among the elderly. More and more elderly people gradually lose their place in our society. Their world shrinks and they start to feel that they are no use to anyone. In the design session with elderly people, I found that they were particularly keen not to be a nuisance to other people, despite feeling the need for company and connectedness. Particularly in the evenings. And that was how I came up with the idea for Ibilight.'
Smart lamp
Hasib: 'Oh yes, weren't you nominated for the Human Factors thesis prize? Congratulations! What exactly is Ibilight?'
Sefora: 'Yes we were the first runner-up, and I am very proud of that! Ibilight is a smart lamp which you can give to an elderly person. The lamp is connected to your devices and you can operate it remotely. So, you can automatically let your mother know that you're home. Her Ibilight lights up. And that immediately gives her a sense of connectedness. And if you touch the lamp, it'll send a notification to your devices. In this way, you can develop your own language. Five taps might mean: can you call me back? It is extremely easy to use. Obviously, the lamp can't solve loneliness. But Ibilight gives the elderly the feeling that they are not alone.'
Hasib: Wow, that's an amazing idea. And not just for the elderly. I also see a lot of loneliness among young people. Do you think that's because of our individualistic society?'
Sefora: 'Yes, I think it is. And that's the paradox. We have so many ways to stay in touch with each other worldwide, but ultimately a video chat is not enough. And we have seen that even more clearly during COVID. We need each other's presence. A hug. An arm around you.' 
Hasib: 'I recognise that. As a teenager, I used to hang out with my friends every day. Now you have WhatsApp, Instagram, and so many other channels. But human contact - which is so important to us all - is disappearing into the background. Which reminds me of the film 'God must be crazy'. Have you seen it?'
Sefora: No, I haven't. What's it about?
Hasib: 'The film - which incidentally is really funny - starts with an ironic dialogue about the fact that we humans develop technology to make our lives easier. But in fact, it only makes it more complex. What do you think?
Sefora: 'You know, ultimately we all come back to basics. We say: "do you remember the good old days?" We all come back to what is really important. Like with Ibilight: technology can't solve loneliness, but it can help. Start with the needs of your target groups, not with what is technically possible.'
Family as the best medicine
Hasib: 'From everything you say, you are obviously a people person. Particularly for someone who likes to interact lots with other people, these are difficult times. How do you manage?'
Sefora: 'I have a lot of contact with my colleagues, at least online. We discuss our work, but we also talk about personal matters too. Which is great. And luckily, I have a large family.'
Hasib: Yes, family is the best medicine! We both come from a culture in which family is extremely important. I'm from Bangladesh. My grandmother lives with my parents - and when I visit on holiday, we all live in the same house. Later, I will certainly go back to care for my parents. In the Netherlands, family bonds are different. How is that with you?
Sefora: 'My roots lie in the Middle East and I am really close to my family. Literally and figuratively. I call my parents twice a day. Despite living next door to each other! My brothers and sisters also visit regularly - family is hugely important to us. When my granddad died, my grandmother was left behind in Brussels, alone. I wanted to do something for her. My research into Ibilight reflects that.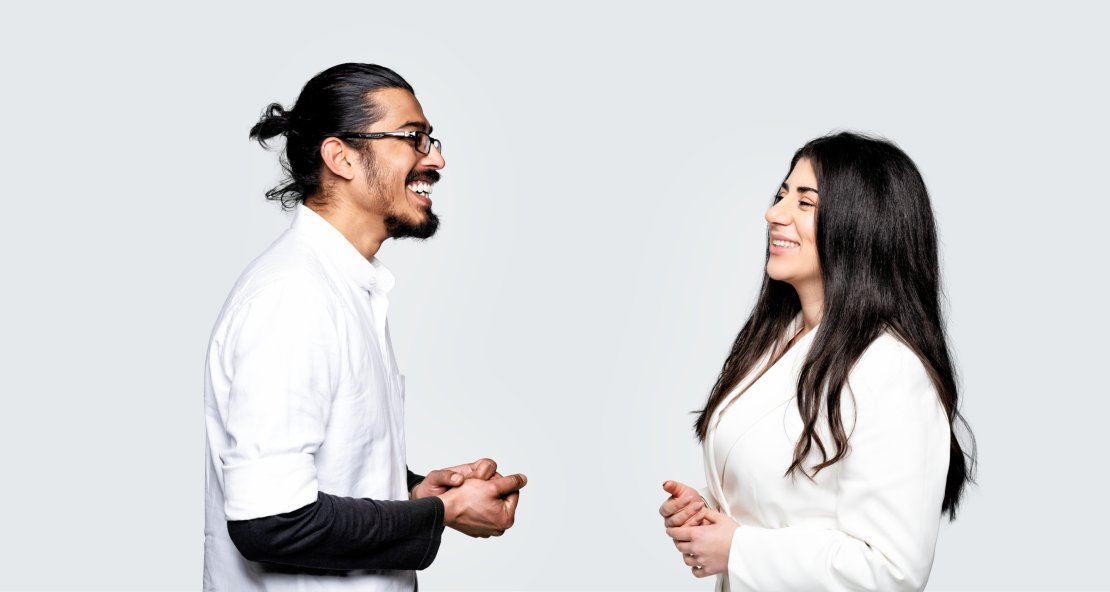 Hasib: 'Your research and innovations tend to focus on the interaction between technology and people. Would you say that makes you a prime example of Shaping 2030?'
Sefora: 'I wouldn't say that, but you're right, I fit in well at the UT. The Shaping theme 'citizen science' totally reflects my way of working. I feel that we should make much better and more use of the knowledge available in society. That means not just asking citizens to participate. For me, they are fellow researchers. As owner, data collector, but also in thinking up possible solutions. Everyone is an expert based on their own experiences. We need scientists who are really interested in their target groups, who dare to be modest and not know all the answers. Knowledge is a co-production.'