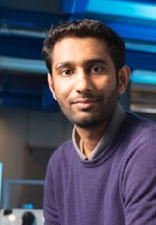 In this thesis, first, the Lagrangian dynamics of tiny bubbles in a turbulent flow were studied. Experimental measurements of their acceleration statistics were performed. Gravity was found to induce intense accelerations even for tiny particles and bubbles in turbulence. These findings were published in Physical Review Letters.
Then the dynamics of larger finite-sized buoyant particles in turbulence were studied. The 'bigger' particles showed larger accelerations than the smaller ones. "This was a counterintuitive result," Varghese Mathai tells. "We were all surprised too."
Finally, it was revealed that a competition exists between the accelerations induced by the turbulence and those due to vortex shedding forces. The findings were published in Physical Review Letters.
"My research was, to some extent, curiosity driven," says Varghese. "Nevertheless it has application potential in various industrial processes. Some of the results shed new light on natural phenomena as well. For example, new parameters need be taken into account to better understand plankton clustering in the turbulent oceans, and for rain drops settling through atmospheric clouds."
Another main topic of Varghese Mathai's PhD work included an experimental method to track the rotation of spherical particles in a flow.
"We painted the spheres with a specific pattern, and recovered their orientation using image analyses," Varghese explains. "We discussed its practical use in a water channel flow. This method also proved useful to study the role of rotational inertia on the dynamics of large buoyant spheres in turbulent flows."
Fluctuations of acceleration
3D particle tracking of microbubbles resulted in striking observations. "We discovered that microbubbles behaved rather differently from tracer particles," Varghese says. "In order to explain the intense acceleration fluctuations of microbubbles, we were forced to look beyond the traditional Stokes drag, and give consideration to 'gravity' as an important parameter governing small particle dynamics,"
Theoretical considerations
Varghese stresses the versatile role theoretical considerations played throughout his project.
"Being part of an open and big group like Physics of Fluids, proved very helpful", he says. "Designing clever experiments and collaboration with experts were decisive in arriving at the results. From theory, we were able to formulate predictions and hypotheses, and we put those to the test using experiments and numerical simulations. In many cases, popular theoretical frameworks proved inadequate, sometimes additional variables were shown to play crucial roles in the phenomena we studied. We then extended the theoretical frameworks to include these variables."
Varghese: "Scientific progress in my PhD research was a team performance. As of now I am keen on active collaborations. In the initial phase of my PhD, I was more driven by individual effort. Adapting oneself to different scientific approaches and showing a broad interest in the field, is now part of my scientific intuition."
Industry
The phenomena under study – ranging from the dynamics of micro-particles to those of deformable bubbles and their interaction with the surrounding fluid – are of practical importance to industry.
"For example in better understanding catalytic reactors, it is important to know the liquid agitation caused by bubbles and particles. On this front, useful insight has been gained from our research," he says.
"The Physics of Fluids (PoF) Group of Professor Detlef Lohse has long-term working relationships with companies such as: Shell, Akzo Nobel and Tata Steel. My work was not based on direct feedback from representatives of these companies, but the range of phenomena under study is most certainly inspired by many key processes in industry. Elements stemming from interactions with colleagues, and with my daily supervisor, Professor Chao Sun, have been translated into our research projects."
Future plans
After his PhD work, Varghese will be working for another half year in the PoF Group as a post-doc.
Varghese: "The content is very much related to my PhD work, and is centered around the Twente Water Tunnel experiments. Being in charge of this facility, it is time to transfer knowledge towards the new PhD's starting their research. I find it important to pay attention to this transition phase in research. I benefited from this as well during the initial phase of PhD. After this post-doc, I hope to find another one abroad that fits my ambitions in pursuing an academic career in fluid dynamics."
QUOTES
'In order to explain the intense acceleration fluctuations of microbubbles, we were forced to look beyond the traditional Stokes drag.'
'In many cases, popular theoretical frameworks proved inadequate.'
'Scientific progress is a team performance. As of now I am keen on active collaborations. Adapting oneself to different scientific approaches and showing a broad interest in the field, is now part of my scientific intuition.'
'In better understanding catalytic reactors, it is important to know the liquid agitation caused by bubbles and particles.'
'As a post-doc, being in charge of the Twente Water Tunnel facility, it is time to transfer knowledge towards the new PhD's starting their research. I find it important to pay attention to this transition phase. I benefited from this as well during the initial stages of my PhD.'