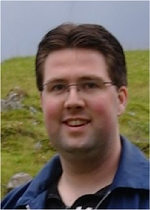 This thesis focuses on realizing and characterizing a microfluidic platform that allows for on-chip integration of many devices. Microfluidic devices are designed to actually measure fluidic parameters to be used in various future application fields. 'Microfluidic channels of many different sizes and shapes are designed here,' Jarno Groenesteijn says. 'These can be integrated right under the surface of the devices, making possible various sensing principles.' His work on a micromachined Coriolis mass flow sensor showed some stunning results regarding sensitivity, actuation, read-out techniques and packaging. Jarno: 'The work showed both application potential - for example in next generation infusion pumps - and showed scientific relevance, for example in designing novel calibration methods. The mass flows involved here are in order of a few hundred micrograms per hour, equaling a glass of water to be filled in a thousand years time.'

The work of Jarno Groenesteijn was a continuation of research work started earlier within the Mesa+ Group: Transducers Science and Technology. 'While refining the fabrication techniques further, not only better quality results were obtained. It became more and more clear new application fields were of relevance,' he says.
Coriolis
Within the TST-group Coriolis sensors were experimented with before, in the microfluidic range. Making use of rotating and vibrating channel geometries, the sensor appears to function just as well when downscaled even further, even though mass flows were considerably smaller. 'Competition with current thermal flow sensors is at stake here, I believe,' says Jarno. 'As an extra advantage, it is possible to cleverly measure density features of the fluid flow all at once.'

These findings are taken further by a future PhD, collaborating with medical specialists in Utrecht and Enschede. Because Jarno gained much more experimental expertise on fabrication techniques, mechanical modeling of fluid flows and new designing principles, more application areas and research fields have come within reach.
Novel calibration techniques
Industrial partner Bronkhorst High-Tech is interested in further investigating and measuring very accurate micro flows. Also at present new calibration methods are under investigation worldwide, reason why scientific and calibration institutes showed interest in Jarno's research findings.
Jarno: 'Using the fabrication techniques allows for accurate measurement and active fluid control, all on one and the same chip. It is funny that even lab conditions are precious here, when handling these minute fluid flows. For example: when the lab temperature raises about 0,1 centigrade it impacts the actual measurement procedures right away.'
STW grant
While designing, modeling and experimenting, Jarno was happy to benefit from the vast experience and expertise of his Mesa+ colleagues. 'They were always happy to share their knowledge with me,' he says. 'Theoretical expertise was brought in by experts from lab-on-a-chip, for example, being very helpful in designing new experiments. In fabrication I collaborated with experts familiar with a variety of etching processing steps, making me improve my skills along the way. I liked the broad scope of Mesa+ expertise. My work involved a wide range of activities, from cleanroon fabrication to simulation and soldering work.' .
In an STW Demonstrator grant project, Jarno will be working the next 1,5 years exploring commercial spin-off chances in microfluid handling. 'Here we will be using other materials and fabrication techniques,' he says. 'I am not yet sure my future job will be in academics or in industry. What I do know is that I like to explore and investigate which principles and phenomena are central. So my future work will be content driven, I expect.'