In this thesis different ceramic micro- and nanomaterials were fabricated, characterized and tested. 'We successfully combined two techniques,' Gerard Cadafalch Gazquez says. 'Electrospinning and sol-gel processing were used in various processes, in order to explore their potential in different fields of application.'
It was demonstrated that diameter, morphology and alignment of nanofibers could be modified this way. The role of the solution properties on the process, for example, was thoroughly investigated, as it controls most of the process, and determines the feasibility of producing fibers.
Most sensational was the design of a flexible ceramic, consisting of a 3% Yttrium stabilized Zirconia non-woven mat of fibers. 'The flexiramics aspects – as we call it – came to light in a fairly coincidental manner,' Gerard shares.
'Though it tells only part of my PhD story, flexiramics will shape my life for the next five years to come, I guess,' he smilingly says. 'At this very moment, I am the leader of a novel start-up company: Eurekite. Our approach is to use polymer as a "filling" in our flexible ceramic. (Usually this is done the other way around.) We now produce a composite that has perfectly unhindered flexibility. Bringing the full potential of this novel idea to market, will be a teamwork achievement in which every team member fulfils his unique, indispensable role.'
During his PhD project Gerard Cadafalch Gazques collaborated with several experts from various areas of research. Tissue generation was one of them, as human bones are of a ceramic nature as well.
'It proved ceramic non-wovens could be turned into flexible,' Gerard says. 'We also showed the possibility of shaping bioactive material for bone regeneration into nanofibers. It offered an improved bio-response towards osteogenesis. The fibrous morphology, we argued, causes a favourable grain size.'
Electronics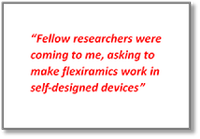 Ceramic nanofibers also showed potential to be applied in the field of electronics. Aligned ZnO nanofibers were fabricated. Its semiconducting and photoelectric properties were studied in field effect transistors and UV detector applications. It was proven that electrospinning can be used for rapid fabrication of large area electronic devices.
Also in the field of catalysts the combined electrospinning/sol gel approach proved successful. The fabrication of novel porous ceramics with controlled catalyst deposition was presented. Polymer nanofibers were used to template ceramic materials and form nanochannels.
Entrepreneur
'When working on new materials in the field of solide oxide fuel cells, we discovered flexiramics properties,' Gerard tells. 'Here we used 3% Yttrium Stabilized Zirconia / Ni cermet as a model material.'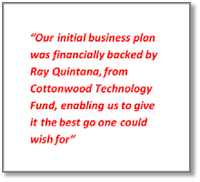 For Gerard starting a company on this topic was not the first thing to come to his mind. 'A colleague PhD invited me to attend an entrepreneurial event organized by the ADEM program, sponsor of my PhD,' he says. 'Here I presented flexiramics for the first time and argued this technique could be scaled up. A lively debate followed the same afternoon. Later fellow researchers were coming to me, asking to make it work in self-designed devices.'
His promoter, Professor André ten Elshof, leader of the Inorganic Materials Group, contributed to his future plans in a decisive way, suggesting to start a spin-off company besides his work as a PhD student. 'Still, I wasn't fully convinced to go full-profit,' Gerard honestly shares. 'After some gentle persuasion from my student Bahruz Mammadov, and after following a Mesa+ course on early business development, I came up with an initial business plan which was also financially backed by Ray Quintana, from Cottonwood Technology Fund, enabling us to give it the best go one could wish for.'
Future
Gerard: 'What inspires me most now, is building a team – like the Barcelona football team, the region from which I originate - everyone playing an equal role in achieving our shared goal. Researchers, marketing experts and project managers, all are indispensible. I am the guy telling the great, over-all story. That's what I like doing.'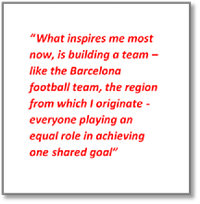 'Being an independent entrepreneur now, allows me to shape the company the way I feel it is best, building a good company culture, balancing the team. We are active on parallel themes now: doing tests; finding first customers and collaboration partners; scaling up our production in first pilot product lines; talking to experts on upscaling our company, finding reliable suppliers and co-financers.'
'It is an exciting and challenging phase in life. When fulfilled, I guess I will choose a more philanthropic and social theme to continue working on, for example in striving for better recycling technology or reducing world food problems. I then will be driven equally by my curiosity: to realize things now being shown for the first time, which have the potential to play an everyday role in people's lives in the future.