Molecules are the building blocks of Nature and are at the core of materials for daily use, energy consumption and production, and numerous everyday systems.
The Molecules Centre is a centre of expertise supported by the MESA+ Institute of the University of Twente. It was established in 2021 and combines science and technology from a molecular perspective. This perspective helps to create dynamic systems and materials to address both important fundamental science questions in complex and dynamic/living systems and in applied science to find solutions for energy, healthcare and sustainable chemistry. Many principal investigators from various backgrounds within the UT collaborate in the Centre to contribute to its vision and mission.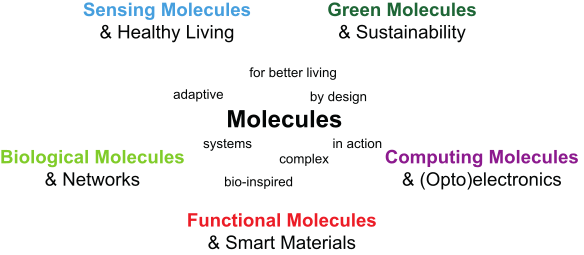 Living molecules
A key property of molecules is their dynamic 'living' character; leading to complex systems that are capable to respond and adapt to changes in their environment. A molecular vision is therefore essential to tackle many worldwide challenges and to meet our needs in the active work we live in. Our mission is to connect and educate scientists with this vision to address scientific and technological challenges.