This activity should result in a final report (the Master Thesis) in which the results of the project are documented.
Contents (minimal)
Before you start the actual writing you have to define the structure of your MSc thesis, in terms of chapters and sections in these chapters. You should develop a general idea of the contents of each one of these chapters and sections, which can be difficult in the beginning. You can do this by looking at your work plan, the kind of project you are performing, aspects of the technical object of concern in your final project, etc. There is no such thing as an 'ideal' structure. In principle any logical structure is acceptable, but you should try to evaluate the structures you obtain according to some simple quality principles like:
Orthogonality
Do the chapters cover distinct subjects of my work (good), or are there many overlaps in the subjects covered by the chapters (bad)?
Completeness
Do the chapters form a complete impression of my work (good) or do I miss some important issues (bad)?
Pertinence
Are all the chapters pertinent (they are about things that are used in the work, which is good), or do I have lots of text just to fill in pages (bad)?
Balance
Are the chapters balanced with respect to the amount of information (good), or do I have a couple of 'thin' chapters and one or two "thick' ones (bad)?
Consistency
Is your structure built according to a logical order of subjects, like, e.g., problem definition, approach, produced results and conclusions (good), or is the structure a collection of unrelated items (bad)?
You may also take a look at some MSc/PhD theses in the library to have an idea of chapter and section structures, but be critical when analysing these structures. Don't forget that these structures follow from specific characteristics of each particular project and the style and taste of the author.
You should also be careful when choosing the titles of your chapters and sections. Be sure they really represent their intended contents.
General outline of the masterthesis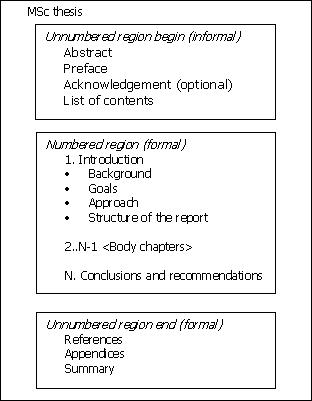 You should look at the structure of your MSc thesis as a dynamic object, in the sense that this structure should be continuously evaluated and adjusted if necessary, according to the ways your final project evolves. In this sense, the structure of an MSc thesis resembles the project plan.

Writing tips

In order to help you writing your MSc thesis, we have selected a couple of useful tips, grouped according to concerns like the audience of your thesis, the writing process, and writing style and layout.
Audience

Determine beforehand the target audience of your thesis, and remember that during the writing process. Your colleagues from the MSc programme may be a good target audience to think of. Your target audience should be capable of reading and understanding your thesis in itself, i.e., without having to read additional articles, books, manuals, etc. You can check that by reading the text as if you were a member of your target audience. This is not an easy exercise, but if you try hard you can get used to it. The trick is to forget all the unwritten background information and to try to understand the pieces of text as they are. In other words, keep asking yourself: Am I omitting any information or reasoning that is essential for understanding my work?
Writing process

One of the most difficult things in writing is to start. People have a tendency to endlessly write and rewrite the initial sentences of a text to their satisfaction, so that it takes a long time before the process gets going. This has actually two main reasons:
People think they can write text from the beginning till the end
People think they have to write each sentence immediately in a final and 'perfect' form
These are two common misconceptions that can hamper the writing process.
You can better start writing by putting down some short sentences or keywords in bullet form before writing complete sentences. Be sure the line of reasoning is clear before choosing the right words. The line of reasoning should be such that you take the reader gently by the hand in a smooth journey in which at the end they will understand your work.
Do not wait too long to start producing text (e.g., in the form of notes) for your MSc thesis. In principle you should already produce text during the early activities of the final project. For example, during preparation you can write sections on problem statement, approach and background information that can be useful later in your MSc thesis.
Style and layout

Your MSc thesis will not be a literary piece of work, because it is simply a scientific publication. As such your MSc thesis will be judged based on quality criteria pertinent to scientific publications, like preciseness, accountability, completeness, logical argumentation, etc. This has a strong influence on the style that you have to use when writing your thesis. A couple of tips concerning writing style are the following:
Give preference to simple and short sentences;
Be precise. For example, use only one term to refer to some concept and keep the terminology consistent;
Give preference to the direct forms. For example, it is preferable to write 'The chapter discusses…' in place of 'In the chapter … is discussed';
Give preference to the present tense. For example, it is preferable to write 'This chapter discusses…' in place of 'This chapter will discuss' or 'This chapter discussed'.
Other useful tips concerning writing style can be found in Strunk,W. Jr, White, E.B. The elements of style. 4th edition. Allyn & Bacon, USA, 2000.
A scientific publication, as opposed to a nice literary work, has a tendency of becoming boring and difficult to read. Complex subjects are normally difficult to grasp, so that you may be forced to use some artefacts to help the reader understanding your ideas. A couple of tips concerning layout are the following:

Try to make the layout of your text such that it is 'inviting to read'. For example, do not write too much text in a page without a break (e.g., section, sub-section, figures of tables), separate paragraphs with empty space or indentation, and do not emphasize too many words;
Emphasis should be homogenous throughout the text. We recommend the use of italics for emphasis;
A clear figure or table says more than 1000 words, but be careful: a bad figure says 1000 wrong words!
Be consistent with layout, captions, cross-references, etc. For example, place figures and captions always in the same place, use always the same font for similar things, etc.
Use chapters and sections to enforce the logical structure of your reasoning. This results in a thesis that appeals to the intuition of the reader;
Do not go too deep in the sub-sections. This normally indicates that the whole thesis is badly structured. For an MSc thesis of around 100 to 150 pages it is reasonable to go until level 3;
Every time you have numbered sections in a chapter or numbered subsections in a section, you should have at least two. For example, a numbered section hanging alone in a chapter actually means that the chapter remains monolithic;
Avoid using footnotes, unless you have some remark that would ruin the line of reasoning if placed in the body of the text. These situations are very rare.
If you still are uncertain about your writing skills, take a look at the following the publications:
Strunk,W. Jr, White, E.B. The elements of style. 4th edition. Allyn & Bacon, USA, 2000.
Kirszner, L.G., Mandell, S.R. The brief holt handbook. 3rd edition. Heinle & Heinle Publishers, 1992.