The SKE graduates of cohort 2019  
Due to the Corona situation, we could not organize a ceremonial and festive finale as usual, but the joy over the certificates is there just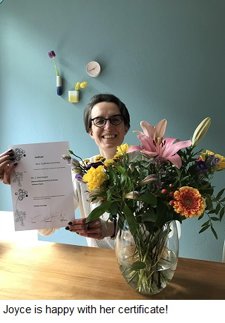 the same. We are delighted to congratulate the following SKE graduates for obtaining their certificates: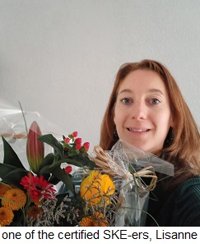 Andre ten Elshof, TNW
Maarleen de Haan, CELT
Nik Huisintveld, TNW
Joyce Karreman, BMS
Maarten Korsten, EEMCS
Lisanne Verheij, ITC
Cornelise Vreman, CELT    


********************************************************************************************
The SKE graduates of cohort 2018
April 18th, the public festive ceremony for the award of the SKE (Senior Examination Qualification) certificates took place. This time together with the graduates of the SUTQ trajectory (Senior University Teaching Qualification; in Dutch: Senior Kwalificatie Onderwijs).
At the start of the ceremony both trajectories were briefly introduced by Jan van der Veen en Arend Rensink. Next all graduates briefly explained their research or in-depth assignment carried out in the context of the trajectories. The certificates were issued by vice-dean Mirjam Bult. All visitors could then visit the poster market while enjoying a drink and a bite. 
The SKE graduates of cohort 2018 are:
Corrie Huijs, programme coordinator IBA (faculty BMS)
Ilanit Lutters-Weustink, secretary Examination Board ID; lecturer DPM (faculty ET) 
Marleen Groenier,  (then member, nowadays chair) Examination Board bachelor TG, researcher (faculty TNW)
Frank van den Berg,  then educational advisor now head of CELT (department CES)
Eric Klumperink, (then member, nowadays chair) Examination Board EE, associate prof. EE (faculty EEMCS) 

On the photo they are accompanied by the members of the SKE organisation team: Hilde ter Horst (co-developer, trainer, assessor), Marloes Luttikhuis (trainer, assessor) and Helma Vlas (developer, trainer, assessor, coordinator). Not on the photo but part of this team: Manuela Ferandez (secretarial support). 
Based on the principle of 'external eyes look along' (vreemde ogen kijken mee), two external assessors are involved: Tamara van Schilt-Mol (associate lector Toetsen en Beoordeling HAN; coordinator Netwerk Toetsbekwaamheid h(b)o - succesor to Landelijk Netwerk BKE/SKE) and Ludo van Meeuwen (manager Teacher Support & Quality Assurance at Education and Students Affairs TUE, formerly advisor Testing and assessment and trainer Examination Boards).

 
**********************************************************************************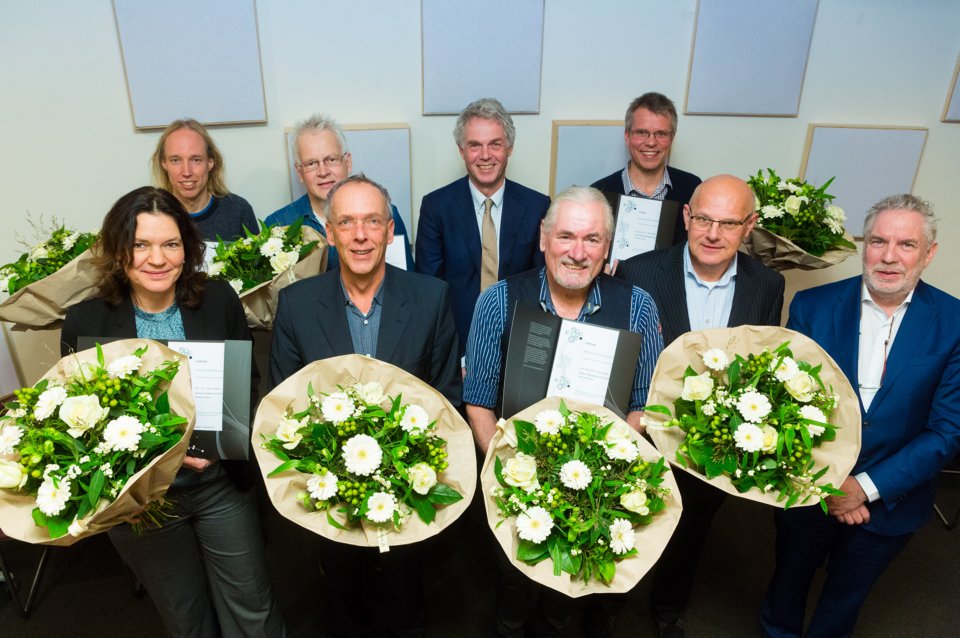 Op 7 dec. 2017 werden de SKE-certificaten voor de eerste lichting deelnemers aan het SKE traject op de UT uitgereikt door de rector.
Geslaagden (in alfabetische vorlgorde): Hans van den Berg, Pieter-Tjerk de Boer, Jan Broenink, Jeanette van Manen, Herman Oosterwijk, Arend Rensink en Fons Wijnhoven. 
Op korte termijn volgt de foto van de uitreiking. In UToday verscheen hierover een item.    
Wilt u zich aanmelden voor het nieuwe SKE-traject 2018? Stuur een mailtje naar het SKE-secretariaat, Manuela Fernendez: m.fernandezfernandez@utwente.nl.
Heeft u vragen of wilt u meer informatie? Neem contact op met coordinator: Helma Vlas  w.d.j.vlas@utwente.nl.