Welcome to the chair of Integrated Lifecycle Management (in short ILCM). This page will give you a bit more information about the field of research of this chair and will provide you with contact information for when you are interested in the field or have any questions.
Made-to-order products are the current trend in industry. Simple products can be personalized relatively easy, for instance by producing a mug in several colors so you can choose your favorite color. Considering all mugs are similar, except for their color, and there are five different colors, this means that the factory needs to be able to produce five different variances of the mugs on order.
However, for more complex products, personalization can become very complicated. Imagine you order a car and there are 10 extra options. For each option, there are two possibilities (take it, or do not take it), and with those ten options, this will result in 210 = 1024 different possible cars! If ten binary options already result in this many variances, try to imagine what multiple color options, different seat styles, and a variety of wheels will do to this number! Also, adding an option might result in a different configuration of the car compared to not adding the option.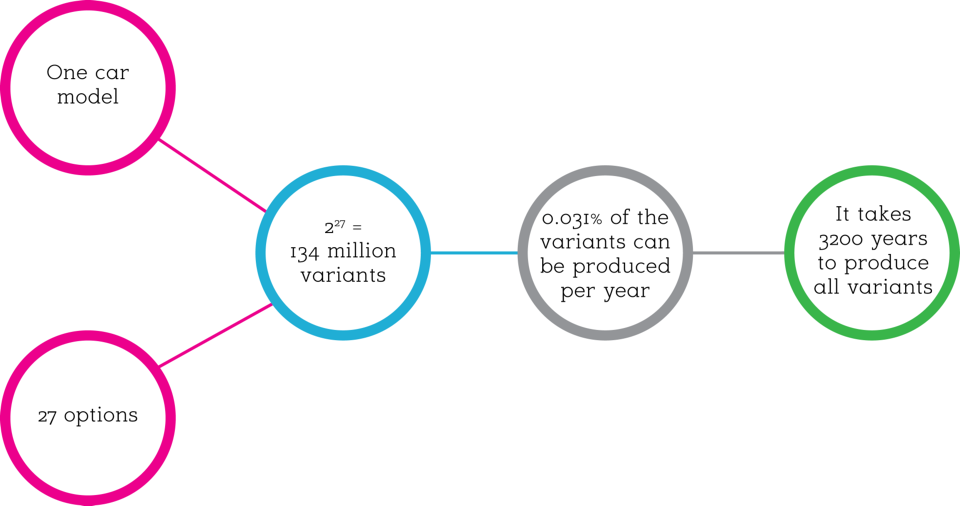 As you can imagine, it is very important to properly manage the different parts and options of the product. Currently, product structures are usually based on a hierarchical part list, which is not always convenient. Adding or removing an option may influence for instance the assembly order of the final product. The size of the impact of this variation can sometimes be difficult to establish, based on the hierarchical product documentation.
ILCM is researching interconnection-based documentation (like a network), both for product and process documentation. Combining or connecting the product and process documentation will be advantageous in the make-to-order industry, because information flows and assembly will become a lot more efficient.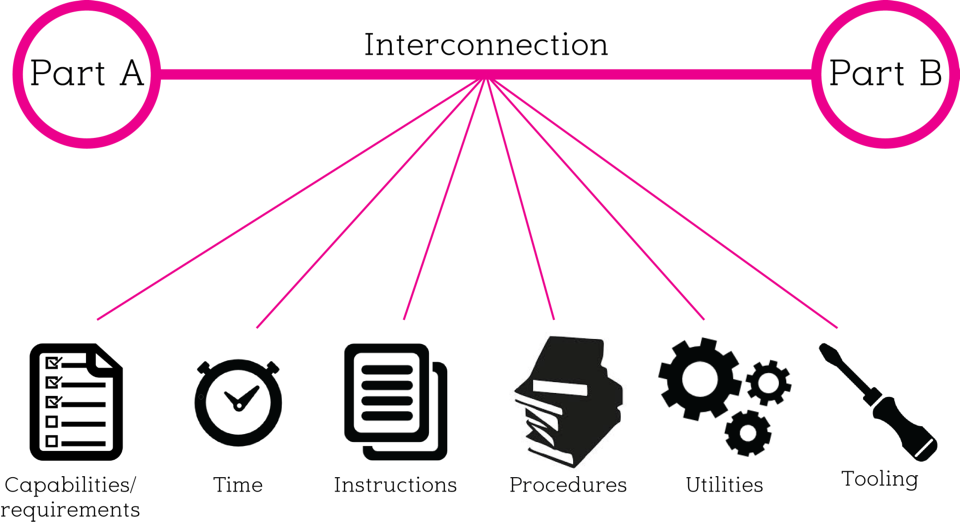 All required information for the final product will be documented inside the network of connections. Some information is part-relevant, and will be coupled to the different parts. Other information concerns multiple parts and may be stored within the interconnections between the parts.
A prototype is built to evaluate the functionality of the interconnection-based documentation, but more research will be done to continue developing this way of documenting. Please contact the email address below if you are interested in joining the chair, for instance to work on a capita selecta, bachelor's assignment or graduation assignment.
For more information, you can contact the chair via m.w.groll@utwente.nl.
STAFF: