jelena popovic
Scientific staff                                                                                                                  
Popovic, Dr. J. (Jelena)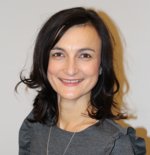 j.popovic@utwente.nl
Electrical Engineering
Building Carré, room C2.441
P.O. Box 217, 7500 AE Enschede
The Netherlands
Phone: +31 53 489 9717
Phone Secretary: +31 53 489 3856
E-mail: j.popovic@utwente.nl
Biography
Jelena Popovic received the Dipl. Ing. degree from the Faculty of Electrical Engineering, University of Belgrade, Belgrade, Serbia, in 2001, and the Ph.D. degree from the Delft University of Technology, Delft, The Netherlands, in 2005. From 2005 to 2011, she was with the European Center for Power Electronics (ECPE) as a Technology Transfer Coordinator. From 2008 to 2017 she was with the Delft University of Technology as an Assistant Professor. In 2018 she co-founded a start-up in energy access, Klimop Energy. From October 2019, she joined the Power Electronics group of the University of Twente as a part-time Associate Professor to develop an energy access programme.
She has published more than 80 publications in scientific journals, magazines and conferences. She has co-authored strategic research agendas, technology roadmaps and white papers in the field of power electronics, energy efficiency, solid state lighting. Her recent interests are bottom-up solutions for energy access, appropriate technology and socio-technical integration.
Other professional activities:
Associate Editor, IEEE Transactions on Power Electronics (2018 -  ).
Steering Committee Member and Judge of IEEE Empower A Billion Lives, a global challenge to develop solutions to energy poverty; Judge for Global LEAP E-waste challenge.
Invited speaker and panelist on Energy Access at Future of Electronic Power Processing and Conversion (2019) and IEEE Energy Access Workshop (2019).
Course instructor for annual ECPE tutorial "Power Electronics Packaging" (2010-2018).
Reviewer for scientific journals: IEEE Transactions on Power Electronics, IEEE Journal of Emerging and Selected Topics in Power Electronics, MDPI Energies, IET Power Electronics, IEEE Industrial Applications Transactions, Elsevier International Journal of Electrical Power and Energy Systems.
Reviewer for conferences: ECCE, GHTC, APEC, ESTC, CIPS.