Friday 17 June 2022
Exo Membra (Ideation), SonoMag (Prototyping) and Smart Road Marking Inspection (Start-up) are the category winners of the sixth edition of the UT Entrepreneurial Challenge. Resulting in several standing ovations from more than 350 attendees, smiling faces and cheering students during the exciting final on 16 June 2022.
While Flux Robotics took home cheques last year, SonoMag upheld its honour by winning an award on behalf of the Surgical Robotics Lab for the second consecutive final. This time with a prototype that uses magnetic and acoustic waves to help cancer patients by remotely manipulating therapeutic drugs through the body. Researcher Alireza Alemi received the Start-up award for a project involving the real-time scanning of road markings. Exo Membra hopes, by starting in the world of cosplay, to eventually conquer the market with easy-to-wear exoskeletons.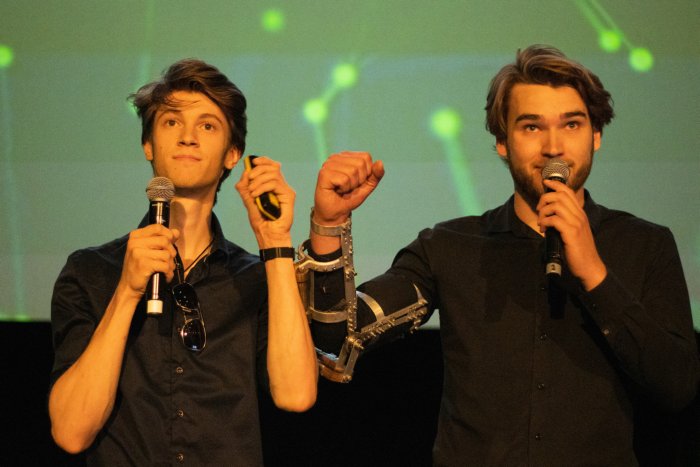 Audience Award
MakeDnD received the recognition of the crowd and received the Audience Award from moderators Mike Verkouter (Novel-T) and Viktoriia Konashchuk (Student Business & IT). Managescape and SAVR were chosen as winners of the 4TU Impact Challenge Wildcards. They receive a ticket for the renowned start-up and tech event Slush 2022 in Helsinki. The ASML Makers Award resulted in the second award for Managescape.
Business Partner Creative Mules handed out their branding packages to Homemade and SAVR. The creator of Ignite, a platform for electric driving, will spend a day working with the experts at Shell by winning the Shell Energy Transition Award.
The awards were presented by Dr. Rainer Harms (Faculty of BMS, department of ETM), Miriam Iliohan (DesignLab) and Lea Milovich (Novel-T) as chairmen of juries from the partner network. This year, the final took place in a packed room at Kinepolis Enschede, on the edge of Kennispark Twente. Which once again emphasises the connection of partner companies and participants.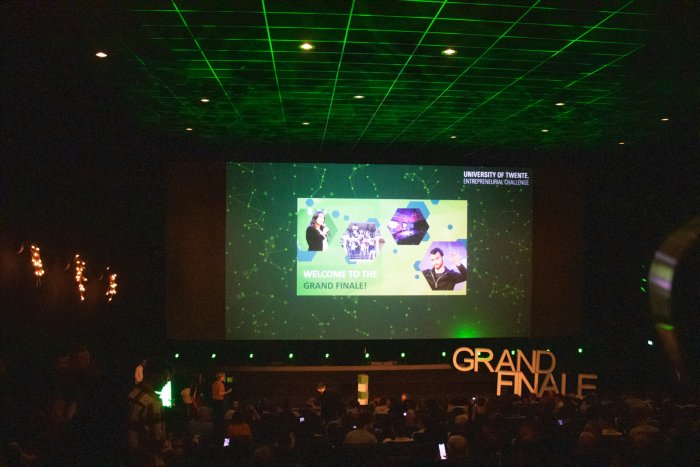 Van den Kroonenberg Award
During the Grand Finale of the UT Entrepreneurial Challenge, entrepreneur and UT alumnus Jeroen Wissink received the Van den Kroonenberg Award. Read more about the award and the winner here.