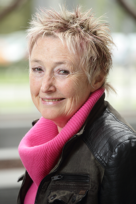 Full name: Dr. Val Jones - ✝ 16-01-2022
Function: Senior Researcher/Associate Professor
Tasks
Research
Project acquisition, building (inter)national collaborations and consortia, publication of scientific research, management of and participation in research projects, supervision of research staff and postgraduates.
Research Areas: Remote Monitoring and Treatment: Body Area Networks for m-health; Mobile and distributed Clinical Decision Support.
Current projects: Fovea - Food Valley Eating Administrator, a health and wellbeing project using instrumented environments, sensing and personalized mobile applications to support healthy lifestyle, including weight management;
Telecare at home - Anticipating conflicting norms in telemonitoring technologies for chronic patients: the first constructive ethical technology assessment with social scientists, philosophers, and engineers working together in parallel during the development of telemedicine systems and applications;
MobiGuide – Guiding Patients Anytime, Everywhere, investigation, development and evaluation of a novel Patient Guidance System (PGS) which gives patients personalized clinical-guideline-based guidance anytime and anywhere and so supports them in day-to-day management of their health condition.
AMI at Work, Well-being Services at Work - an EU initiative building a family of communities researching Ambient Intelligent support for collaborative working environments.
Scientific publications include two books and over 100 other publications in Computer Science, Sociolinguistics, Classification Theory, Health Services Research, Health Telematics and Health Informatics. older publications.  
LINKEDIN: https://www.linkedin.com/in/val-jones-7052113/ 
RESEARCH GATE : https://www.researchgate.net/profile/Valerie_Jones3
Education
Supervision of postgraduates (Masters and PhD students) and undergraduates (internships and Bachelors assignments). Course coordinator BME course: Telemedicine Methods.
Biography
Dr Val Jones received her PhD in Computational Sociolinguistics from the University of Newcastle upon Tyne. Since then she has conducted research at the Universities of Newcastle, Stirling, Aberdeen and Twente, in the areas of Computational Linguistics, Health Services Research and Computer Science. In 1992 she was appointed project leader of a health telematics evaluation project in Scotland and conducted a randomised controlled trial involving 15000 patients. Her experience in computer science includes research in the areas of Functional Programming, Software Engineering, Formal Methods, Knowledge Based Systems and mobile applications enabled by wireless technologies. In 1996 she joined the University of Twente as a senior researcher to work on upper layer support for distributed multimedia applications in the domains of elearning and ehealth. In 2001 she initiated a new research theme relating to the use of Body Area Networks (BANs) for health monitoring and treatment. She was jointly responsible for the scientific coordination of the IST MobiHealth project. Current research interests include: application of modelling approaches to the design and development of ehealth and mhealth applications, including mobile and distributed Clinical Decision Support; the ICT research challenges raised by these applications; and future mhealth possibilities enabled by emerging technologies such as Ambient Intelligence and nanotechnologies. Val Jones is co-chair of the Well-being Services at Work community of the AmI at Work initiative from the New Working Environments Unit of the European Commission and serves as an expert evaluator for the European Commission. In 2008-9 she was Visiting Professor at the University of Technology, Sydney.
Professional Titles: MBCS, CEng, CITP, Eur Ing.
Val Jones was Principle Investigator for BSS of these projects at the University of Twente
Other Links