Marieke Vroom, Msc
Freelance (science) journalist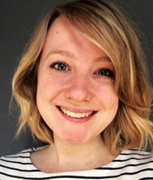 In 2015 I graduated from the University of Twente with a Master's degree in Psychology, specialization Conflict, Risk and Safety. I chose this track because of my interest in group dynamics and the influence of the social and physical environment on (anti-)social behaviour.

What appealed to me most about the master is its practical focus and small-scale setting. In every course, theory is linked to current events and in 'Group Dynamics and Interventions' it is all about experiencing the subject matter yourself through assignments and group-exercises. The modest group size of approximately 20 master students encourages active participation and interaction between students and lecturers.

After my graduation, I worked at PCRS as a junior researcher. I evaluated restorative courses in custodial institutions. The aim of these courses is to create awareness among prisoners about the consequences of their crimes, increase prisoners' feelings of responsibility for their actions and inform them about the (im)possibilities of repairing the damage they caused, such as victim-offender mediation.

During this year as a researcher I discovered that, although I really like science, it is not my passion to conduct research myself. I would rather write about it and make science (and especially psychology) understandable and appealing for everyone: I wanted to be a science journalist. So I took a course in science writing, registered myself at the Chamber of Commerce and started my career as a freelance journalist.
I write for various (science) magazines and companies, including U-Today and the Magazine for Alumni and Partners of the University of Twente. The best thing about my job is the variety. I meet the most interesting people and have the opportunity to constantly dive into new subjects. One week I write about a PhD-student who researches how robots can learn to understand our emotions and the other week I am in Austria as reporter for an ice-skating competition. If you want to read my articles, please visit my website: www.mariekevroom.com.
Although the mastertrack Psychology of Conflict, Risk and Safety did not directly prepare me for becoming a (science) journalist, I acquired skills that are essential for my career. I learned to conduct interviews and I am able to understand and review the literature that is necessary to write about science. Furthermore, I have thorough knowledge of topics that recieve a lot of media attention, like risk communication, social psychology and crime.
Click here to go back to the overview page.