Jana Domrose, MSc
Social Psychologist at Consultancy for event safety (Germany)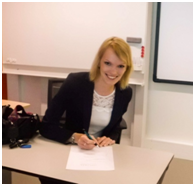 In 2015 I graduated from the University of Twente, where I attained my Master's specialization in Conflict, Risk & Safety with distinction  (Cum Laude). Having completed my Bachelor studies in Psychology, I always enjoyed subjects such as social psychology or communication, which is why furthering my education with the PCRS Master felt the right choice for me.
During the Master program I learned a lot about human risk perception and safety communication – which personally fascinated me the most – but I also got a great insight into the theories of crime development and control, as well as in the practical techniques of conflict and crisis management (which are really helpful for anyone who intends to work with non-scientific clients later on).
Moreover, I enjoyed the fact that I could choose to do an internship, which enabled me to gather some practical field experience and to better understand what it means to be a social psychologist. I have been very lucky to get the opportunity to do research for Veiligheidsregio Twente, where a "Risk Factory" for primary school children had just been established. During my internship – which I extended as to make it an integral part of my Master thesis – I learned how to combine theoretical research methods with the development of practical recommendations for clients.
Alongside the theoretical knowledge gained throughout the courses, having had this practical experience is particularly fundamental for my current position. In fact, as a social psychologist at a German consultancy for event safety, I advise and train event managers with regard to the effective communication about risks and emergencies.
Altogether, I can really recommend the Master's specialisation PCRS to everyone who is interested in studying and (eventually) influencing human behaviour in a social context. Furthermore, I would also advise students to take part in the internship programme, as this will enable you to get a realistic idea of the opportunities and challenges of your future working field while broadening your professional network.
Click here to go back to the overview page.