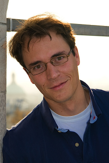 Dr.ir j.M. Moonen 
Assistant Professor
Building number 10, Ravelijn
Telephone: +31 (0) 53 489 3500
Email: j.m.moonen(a)utwente.nl
GENERAL INFORMATION
Hans M. Moonen (1978) is an assistant professor in the department of Information Systems and Change Management. He holds a MSc. in Industrial Engineering & Management Science from Eindhoven University of Technology and a PhD in Logistics & Information Systems from Erasmus University Rotterdam.
Since early 2009, Hans works one day a week at the University of Twente as an assistant professor, combining research and teaching, and four days a week at Logica Management Consulting where he is working on innovations in the field of Intelligent Transport Systems. 
From 2003-2008 Hans worked at Erasmus University Rotterdam on research around the application of multi-agent systems to logistics. His research took place within the [EET/Senter-Novem] DEAL project (2003-2007), the [Connekt] Intelligent Agents project (2003), and the [Transumo] Diploma project (2006-2008).
Before Erasmus University, Hans spent two-and-a-half years in different positions with enterprise software vendor Baan, both in Quebec City, Canada, as well as the headoffice in Barneveld.
Research
Courses
CURRICULUM VITAE
Education
PhD. in Logistics & Information Systems, Erasmus University Rotterdam (2009)
MSc. In Industrial Engineering & Management Science, Eindhoven University of Technology (2002)
Academic Posts
Assistant Professor (part-time), University of Twente, 2009 – present
PhD. Candidate, Erasmus University Rotterdam, 2003-2008
Research Areas
Logistics & Information Systems
Multi-Agent Systems
RECENT AND RELEVANT PUBLICATIONS
Dissertation
Multi-Agent Systems for Transportation Planning and Coordination