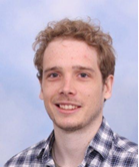 N. KNOFIUS, MSC
University of Twente
Faculty of Behavioural, Management and Social Sciences
Department Industrial Engineering and Business Information Systems
P.O. Box 217
7500 AE Enschede
The Netherlands
Room: RA 3301 (Ravelijn)
Tel: (+31 53 489) 6515
E-mail: n.knofius(at)utwente.nl
SUMMARY
Nils is a Postdoc in the IEBIS department and obtained his PhD entitled Additve Manufacturing in After-Sales Service Logistics from the University of Twente in 2018. Currently, he works in the ProSeLoNext project in which he applies AI techniques to improve operational decision making.

RESEARCH INTERESTS
Service Logistics
Inventory Management
Supply Chain Management
Additive Manufacturing
Machine Learning
Neural Networks

PUBLICATIONS
Knofius (2014). Using installed base and lifecycle information to improve the final order business case at ASML. MSc. Thesis, University of Twente: http://essay.utwente.nl/66119/
Knofius et al. (2016). Selecting parts for additive manufacturing in service logistics. In: Journal of Manufacturing Technology Management 27.7, pp. 915–931. doi: 10.1108/JMTM-02-2016-0025.
Knofius et al. (2018). Consolidating spare parts for asset maintenance with additive manufacturing. International Journal of Production Economics. doi: 10.1016/j.ijpe.2018.11.007.
Zijm et al. (2019). "Additive manufacturing and its impact on the supply chain". In: Operations, Logistics and Supply Chain Management. Ed. by W.H.M. Zijm, M. Klumpp, A. Regattieri, and S. Heragu. Springer.