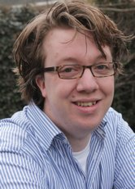 S.J. (Sjoerd) van der Spoel, MSc
University of Twente
Faculty of Behavioural, Management and Social Sciences
Department Industrial Engineering and Business Information Systems
P.O. Box 217
7500 AE Enschede
The Netherlands
Room: RA3402 (Ravelijn)
Tel: (+31 53 489)4091
E-mail: s.j.vanderspoel(a)utwente.nl
CTIT: http://www.utwente.nl/ctit/phd/sjoerd_vander_spoel.docx/
SUMMARY
Sjoerd van der Spoel is a PhD student in the IEBIS department. He holds a master's degree in Business Information Technology. He is involved in the design and development of a cross chain control center, that facilitates the collaboration between supply chain partners, and in doing so, increases the sustainability of the chain as a whole. Currently, he is working on developing methods for monitoring the execution of a supply chain plan. His research is part of Dinalog's 4C4More project.
Research interests include complex event processing, data mining and business analytics in a supply chain setting.
He is involved in the ICT management and Data Warehousing and Data Mining courses, and also supervises several bachelor and master students.
RESEARCH INTERESTS
Complex Event Processing
Business analytics & Data mining
Logistics & Supply chain
Forecasting
Interorganizational systems
Cross chain collaboration
Big data