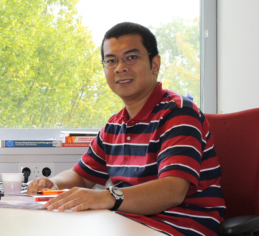 A. Arviansyah
University of Twente
Faculty of Behavioural, Management and Social Sciences
Department Industrial Engineering and Business Information Systems
P.O. Box 217
7500 AE Enschede
The Netherlands
E-mail: a.arviansyah(a)utwente.nl
SUMMARY
Arviansyah is a PhD student in the IEBIS department at School of Management and Governance, University of Twente. He gained his master degree from Faculty of Economics and Business University of Groningen. Currently, he is doing research in the area of IS/IT project management; specifically, on how organisations evaluate the on-going IS/IT projects and how decisions are made at such moments.
RESEARCH INTERESTS
IS/IT ProjectsEvaluation and DecisionEscalation and Abandonment
PUBLICATIONS
Arviansyah, Egon Berghout, and Chee-Wee Tan. 2011. "Evaluation of ICT Investment in Healthcare: Insights and Agenda for Future Research." In Proceedings of the 5rd European Conference on Information Management and Evaluation, p. 53. Academic Conferences Limited.