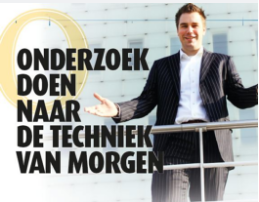 SIMON DALMOLEN MSC
Ph.D. candidate
Building 10 Ravelijn
P.O. Box 217
7500 AE Enschede
Tel: +31 53 489 3500
Email: s.dalmolen@utwente.nl
Twitter: @simondalmolen
LinkedIn
General Information
Simon Dalmolen is a Ph.D. candidate in the IEBIS department.
He holds a MSc. in Computing Science (Distributed System & Software Engineering).
His research is part of the 4C4More project about developing Cross Chain Control Centers (4C).
Description of research
The key idea behind Cross Chain Collaboration is to create inter- and intra-supply-chain collaboration. For a higher efficiency use of scarce physical resources and materials, more effective use of scarce human resources. So a boost of the profitability of companies can be achieved, while more efficient use of scarce resources and materials contributes to a sustainable planet. In our research we aim to develop tools/model for an information architecture in addressing cross chain collaboration in logistics and supply chains.
The objective of the research is how cross chain collaboration can be enabled or supported using information systems. Which preconditions are necessary? How can cross chain collaboration being monitored?
A current side-dish is exploring the opportunities and barriers of using a Google Glass in supply chains & logisitics.
Current Research Interests
Logistics & Supply chain management - Cross Chain Collaboration - Interorganisational Systems – Business Intelligence / Mashups - Multi Agent Systems – Information Systems – Serious Gaming – Gamification – Internet of Things – Google Glass
Publications
2015
2014
2013
2012
2011
2010
Blog / Poster
2014
2013
2011
Master Students
2015
2014
2012
2011
Bachelor Students
2014 (Referaat)
2013 (Referaat)
Thesis
2012 (Referaat)
Teaching
2012 – 2013: Production Logistics Information Systems (Master BIT, TBK) – Teaching Assistant
2012 – 2013: Business Process Integration Lab (Master BIT, TBK) – Teaching Assistant
Doctoral Consortium
2013 – Design Science Research in Information Systems and Technologies (DESRIST) conference