Please note: this manual is about news/events. For BOZ-departments that place educational announcements, there is a separate manual available: www.utwente.nl/en/webhare, manuals, my.utwente.nl).
Why this application?
With this application, news and events are placed in a central application instead of directly in a website. In the properties of a certain item, you can define which websites need to show an article. This creates an easy way for UT departments to share news items with each other, and also to generate a central overview of events on campus. It also helps utwente.nl to get better rankings in search engines by not placing duplicate content anymore. Publishing an item that has been created by another department is only one click away.
Which websites can participate?
The following website are connected to the NEO application:
All WebHare websites with the black menu on the left (UT and UT institutes)
All Webhare websites with the white menu on the left (ITC faculty)
The employee portal employees.utwente.nl
Login and rights
Go to webhare.utwente.nl and log in using your ICT account (email address for employees or s-number and x-number for students/externals). If you have rights to publice news or events on a website, you will find the NEO application on your WebHare start screen. NEO is short for News, Events and Educational anouncements ('onderwijsmededelingen' in Dutch).
The overview screen
After opening the application you will see the news/events overview. Use the filter on top to choose what news you want to see. The options are:
Only your own news (which you are allowed to adjust)
All news of the UT (because you want to take over news from somebody else)
All recently changed news (to see what has been added recently)
...
The filter option below offers an advanced search screen, where you can find news like:
News with certain search words
News of a specific website (or several websites)
News that has been changed or added in a certain period of time
...
The news overview with an opened search screen:

Use the search beam to add a new item or edit an item. You can also display sign-ups here (registrations) or view a message in the browser.
Filter for the selection of messages: choose which messages you want to display; all recently changed messages (whole UT), only your own messages, etc. This also contains an advanced search option. 
The news overview displays which messages belong to your chosen filter. In that screen you will see a few properties:

The counyt flags display in which language the news is available. If there is a cursor in front of the flag, there is a second or thirf language available.
The icons display what type of news it is:
- Event (agenda icon): 
- News (paper icon): 
- Educational anouncements (bachelor hat): 
- Culture performance (masks): 
- Pre-U activity (disc): 
Data of the last change, when the event takes place, when it has been added. 
Publication status: a green mark means that the news in online. A message with a red beam is not publiced. The publications can be arranged seperately for every language version.
Homepage: the home () displays if the news is on the homepage www.utwente.nl. In order to publice your news for publication on the homepage, you select the news and choose the option 'show on homepage'. The central editorial office will receive your request. 
The latst column (publication) displays on which websites the news has been publiced. 

The pencil icon means that you have rights to edit the news. At the properties of the news you can select which department owns the news and may edit the news. A news message without a pencil cannot be edited, but you can always (unchanged) take over the news for your own website.
TIP: CLIcK On thE columns to sort the results for that column, e.g. to select an event date.
Adding a news item or event
If you want to publice a new message, use the button add in the menu above for adding a new news message or event. (If a message is about a specific day, e.g. a workshop for PhD students on May 3, then this is an event, not a news message). If you want to edit an existing message, click on the button edit.

Next, choose a language for your message that you want to publice first, e.g. Dutch.
If you want to add a second language later (e.g. English), do not add a new message, but use the button add translation, that you can see after opening the message: 


A screen appears where information can be filled in, divided by several tabs:
TAB Dutch (first language)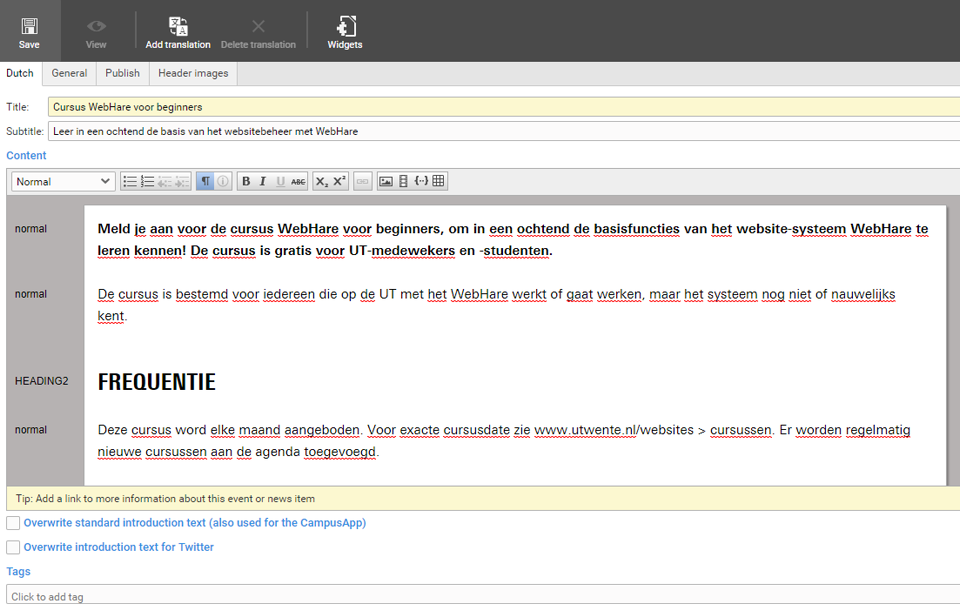 Mandatory fields:
Titles: Fill in the title of your message
Content: Fill in the content of your message. The first paragraph (until the first enter) should be bold. WebHare automatically bolds the first paragraph for news messages. Your text will have to format 'normal', but headings are always 'heading 2' (see button menu above your subtitle).
Optional fields:
Subtitle
Overwrite standard introduction text: Some websites (like institutes) show the intro text on the homepage. The first lines of the message will automatically be shown. If you do not want this and you want to display your own intro, fill in this field.
Overwrite introduction text for Twitter: if you messages are automatically publiced on Twitter, you can fill in an alternative text for Twitter here.
OPTIonS within thE CONTENT
Above your content there are a few options (bold, italic, hyperlink), that you should know from Word. We explain a few options shortly:
Photos in the text: Via the photo button () you can add photos from your computer. You can also copy-paste a photo from a document (via the combination ctrl+c; ctrl+v). 
Videos in the message: Videos should be on YouTube or Vimeo, before they van be added in a news message. You can publice the video in the text of your message. For an explanation about adding videos you can visit another webpage. 
Inline components: Via the button inline component () you can add other elements in your text, like sign-up buttons, quotes, etc. For details you can visit the instruction page about inline components.
TIP: Content
Use Heading 2 for subheadings
Use hard enters between alineas (no shift-enter).
Use th button  to see which style you are using in the text
Publicing a second language version

In order to add a second language version, you should open your message and use the button 'translation'. Choose your language and then a second tab will appear, where you can place your contant in a second language. The other tabs (general, publish, images) are language independent and won't change. 
It may happen that you do not have content for the Dutch message. In that case, you can publice one sentence with a link to the English message, so you can at least publice the message on your Dutch website. You can link to another language version easily with the  link button (

), where you choose the option 'NEO message' and select the message from the list.
TAB GENERAL

Mandatory fields:
Date: for events, a date is mandatory. This is not the case for news
Changes: here you can select who is the owner of the message (which website). Administrators of that website are allowed to make changes in the message, others are not. Other users are allowed to take over your unchanged message.
Optional fields:
Location: this only aplies to events. Choose a building from the list and fill in the room number manually. A widget (box) will show the location in the message.
Event type: this only aplies to events and is only relevant for messages for the culture website, Pre-U or the central UT website.
Link to article: link to a news message, e.g. a news message that was publiced later as a report.
Changes: displays who has made the message and changed it last. Click on the button 'History' and see all persons that have made changed inbetween. 
Registration: this only aplies to events. If there is a registration form needed, you can activate a basic form here. The results can be displayed via the button 'registrations' above the news overview. Alternatively you can select another link that will be placed below your message, or a link to a Facebook event:

Contact person: this will show a contact person from this list below your message. This happens at official press releases that are publiced on the UT website. New persons can be added via the MC Servicedesk, onlinemedia@utwente.nl.
TAB PUBLISH
On this tab you can select where the message should be publiced:

Mandatory fields:
Publication locations: Choose via the button 'add' the websites where your message should be publiced. You can choose from all websites that you have rights for. The chosen locations will be listed. If you want to publice the message elsewhere, please contact that faculty or institution or onlinemedia@utwente.nl. Use the large button above the news overview (after saving the message) in order to publice it on the home page as well.
Optional fields:
Schedule: Here you can select when the message will be publiced. In this case there is a publication date, but in case of a nonpubliced item, you can select 'edit' in order to publice it later or make an already publiced item offline. 
Publication locations: Choose with the button 'add' the websites where you want to publice your message. You can choose from all websites that you have rights for. The chosen location will be listed. If you want to publice your news somewhere else, please contact that faculty or institution or onlinemedia@utwente.nl. Use the large button above the news overview (after saving the message) in order to publice it on the home page as well.
Other publication options:

Only visible for...: here you can select if a message in NEO should be 'secret', zo invisible for NEO-admins from other departments. 
Campus app: you can publice your event in the event list of the campus app of the UT.
More: it depends on your rights if you can find more and specific options here.
If there is a lock in front of the publication location at a news message, this is s location that you cannot edit yourseld, because you are not an admin: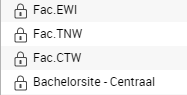 Note: If you are allowed to publice in the employee portal, there will be extra options available. You can find these in a special manual for admins in the employee portal.
TAB IMAGES
On this tab you can add photos that are not in the text: 
In the header (above the message)
Photo in the overview (small icon in the news overviews)

Photos are not mandatory, but are recommended for a nice lay-out. Make sure your images have a good quality.
Upload photos (it is possible to upload more at the same time) via the 'add' button. A photo editor will be displayed per photo, where you can edit your images. For now, just click OK, the photo editor will be explained below.
The photos will be displayed in the overview and will be used as a header (the large box on top of your message). If you publice several images, all photos will slowly pass the screen one by one.

The first image will be displayed on top of the overview of your news/events and will be used for the first two messages:

If you did not publice a photo, a standard UT photo will be displayed. 
If you select an image, you will see an example on the right (very small). 
Here your first image of your list will be displayed. This first image becomes a small icon in the news overview:
 
Check if your image dimensions are sufficient, in order to prevent a bad quality of your image: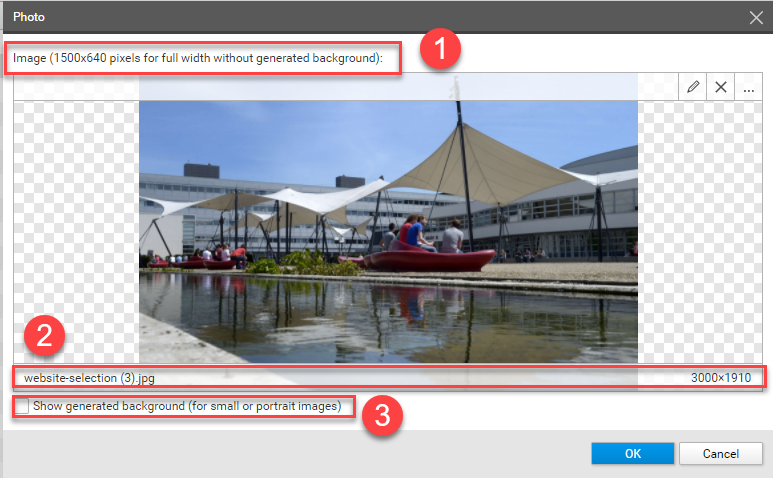 This field shows what the minimum size of the photo should be if you want to use it as a header. If you check below at (3) that you want a generated background, you can ignore this minimum size.
This field shows the name of the file and on the right the size of the photo. This photo is larger than the required minimal size and thus can be used. 
Here you can select that you want to generate a background, if your image is not broad enough for the header.

Deviating display of images: 
Institution websites: Here only the first image of the list will be shown and no large header photo. The institution template will be adjusted in the future in order to show all images above the message.
TIP: Fitting photos
Minimize photos: on your Windows computer you can minimize a photo easily to make them fitting for the web.
You can show a deviating format (square or standing) in the header if you like. When uploading the photo you will see a check mark where you can activate this. The image will be fitted to the header, with a shadow behind it.
When heads fall of the image in the header on some screens, you can select a reference point of the photo when editing the image. This point will always be central in the image. You can go to the photo editor by double clicking an image in the list. For more information, see this manual for photo editor details and options.
Chosing Two items as highlight
Most actual items are chosen here standardly. If you do not want this, you can put other messages on top here: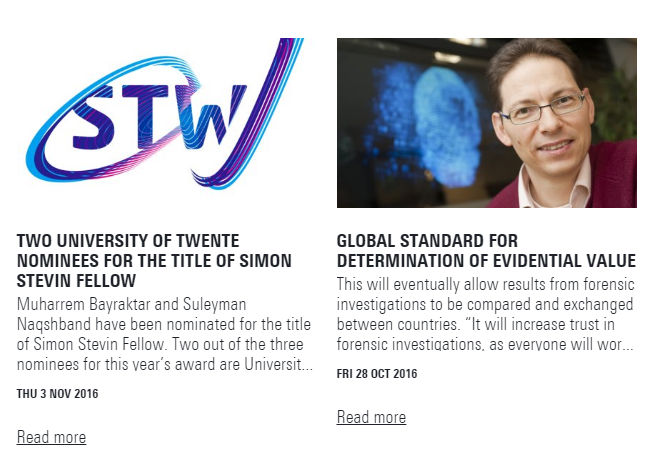 You can do this in the properties of your news/events folder in your website. Open the propertiesof the folder and select the last tab ('focus items').
What about the rights?
An administrator of a website does not automatically have rights for news/events. These can be granted seperately per website and therefore need to be requested.
A user with rights for NEO:
Can see all messages of the whole UT in NEO (unless the owner of the message has blocked the message in the tab 'publish').
Can take over all messages that he can see in NEO for his own pages where he has rights for. He cannot change the content of these messages.
Can add new message within his own website (e.g. Instituut MESA+) that others can take over.
Can present his messages to the central editorial office for publication on the home page (button on top of the start screen NEO)
Can edit the main location/owner of a messages (tab 'general' at heading 'changes'), if he has rights for the new and the old location.
Everyone with NEO rights for the main location/owner (tab 'general' at heading 'changes'), of the message can edit the message (e.g. everyone with NEO rights for MESA+).
In order to make it more visible that a local message of e.g. a faculty has been taken over by the central editorial office, this message will receive a 'home' icon (see image below) in the location column, so it is clear that this message also on the home page.



The central UT press team can take over messages on all websites that have granted permission for this.
Forward your item to other websites that you can't acces
After publishing your news of event in NEO, you may request publishing in to other websites that you cannot acces: a faculty website, institute website, central utwente.nl site, the employeeportal or student pages. This is how to:
Open the news/event you want to request for publishing on another website and go to the 'publish' tab. Here you will see a list of publication locations where it has already been published.  
On the right next to the list, hit 'request'. From the list available, choose the website(s) you want to publish your item on.

The admin(s) of the requested publication location(s) will receive an email to handle your request. You will receive a confirmation by email when your request has been finished. 
Please note: rules for publication requests:
Only send a request if your item is relevant for the other website. Otherwise it would be considered spam and sending spam may affect your rights for WebHare.
Only send a request if the item is compleet. Don't forget to add a link to tell people how to sign up for an event, etc. 
Items that are publised on faculty websites an on utwente.nl need to be Dutch and English and the event/news must be relevant for a wide audience, as these webpages are targetted at a general public audience. 
[News items can never be published on utwente.nl, as utwente.nl only contains official UT press releases, written by the UT press department.]
Submitting an item if you don't work in NEO
On www.utwente.nl/en/mc, use the quicklink 'submit news/events' to submit an item to the UT news/event application NEO. You may submit items for the homepage, faculties, institutes and internal portals for employees and students. 
This form can also be placed on your own websites, showing publication locations of your choice, e.g. your own website. Colleagues can submit their items and it safes you time because the only thing you have to do is check and publish. 
To set up this form, please contact us (contact information is on your screen after WebHare login) and let us know which email address should be notified when a new item has been submitted. Preferably, this should be a functional mailbox instead of a personal mailbox, to make sure requests are handled during holidays.