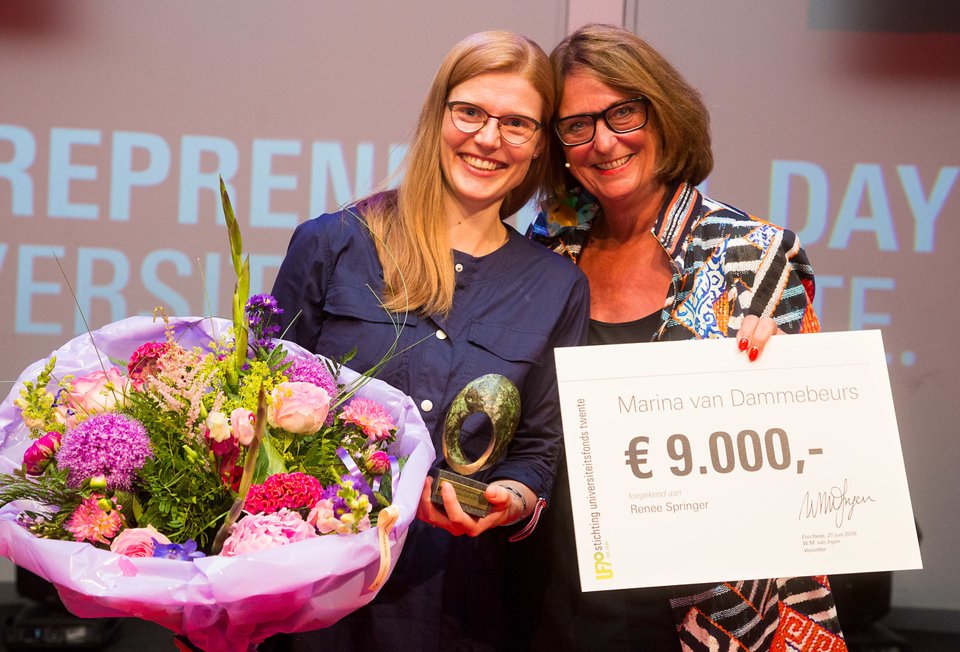 CALL FOR APPLICATIONS
In the Summer of 2018 the Board of the University of Twente Funds Foundation will award the Marina van Damme scholarship for the 16th time to a talented, ambitious UT alumna, with a master's degree and/or a doctorate, who could use a helping hand in taking the next step or turn on her career path. The scholarship is made possible thanks to a donation from Dr M.A. van Damme. In 1965 she obtained the first doctorate to be awarded by the former Twente Technical College.
The scholarship consists of a cash prize of €9,000 and a certificate and is intended, for example, for the expansion of knowledge or an international orientation in the form of a study, internship or project. The scholarship is explicitly not intended for the (co-)funding of a PhD trajectory. Furthermore, applications focused on pursuing a follow-up programme at the University of Twente will not be considered. The winner of the scholarship has a period of four years to implement her plan.
Last year's winner
The Marina van Damme scholarship 2017 was awarded to Moreblessings Shoko. In 2010 she gained her master's degree in Geo-information Science and Earth Observation. Ms Shoko wants to strengthen the position of women in Zimbabwe, by giving them the opportunity to pursue full-time education. One particular problem she addresses is that girls often miss a quarter of their time at school, due to their monthly period. Ms Shoko wants to prevent such setbacks by developing new, reusable and hygienic sanitary towels. She also wants to establish a drone-based distribution system to reach the remotest corners of the country. She also wants to use these drones to gather geo-information for further scientific research, and for practical applications in agriculture and industry.
Candidate nomination
Attached to the candidate nomination should be a plan setting out the developments the candidate has undergone since her graduation, and including a curriculum vitae; her dream and motivation; the steps she intends to take in this respect; and how she intends to use the scholarship for this purpose. This plan must be drawn up by the candidate herself, and a relationship established with the assessment criteria described below. It is an advantage if the winner can serve as a role model.
Selection
The plans are assessed by a jury composed of a former winner of this scholarship, a female professor of the University of Twente, and a board member of the University of Twente Funds Foundation.
Application
Candidate nominations can be submitted no later than 28 February 2018 by e-mail (universiteitsfonds@utwente.nl) or by post:
Stichting Universiteitsfonds Twente
T.a.v. Karin Lienesch – SP319
Postbus 217
7500 AE Enschede
The scholarship will be presented on 21 June 2018 during a ceremony at the campus of the University of Twente. The winner is expected to attend.
You can find more information about the scholarship and the winners of previous years at www.utwente.nl/ufondsor you can contact us by sending an e-mail to universiteitsfonds@utwente.nl.

Please find the application criteria and a check list here