2023
MSUS attended ICOM 2023 last month!
Last month, Wendy Jonkers presented her work on Asymmetric polyelectrolyte multilayer membranes at ICOM in Japan with a poster!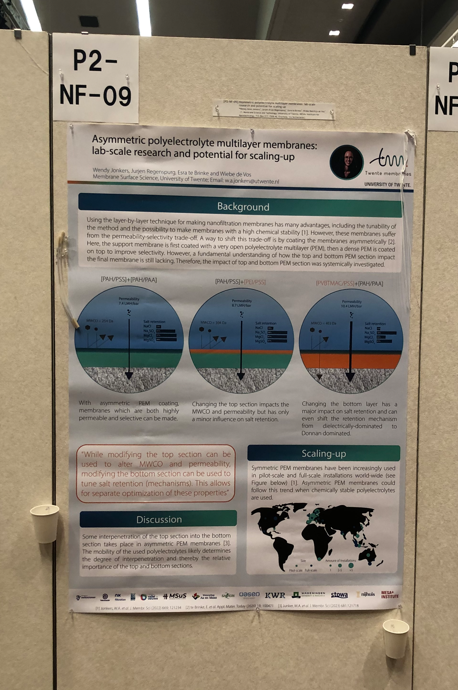 Today we held our annual msus group outing!
To celebrate the start of the summer, we held our annual group outing at Outdoor Holten this year! We had a day filled with fun activities and finished it off with a nice BBQ! There was a fierce competition as to who would be the best MSuS team, however, Wiebe proved to be no match for the rest of us and brought his team the victory on multiple events!
MSuS was present at the Dutch polymer days!
We presented our latest work at the Dutch Polymer Days this April! We were honoured to give multiple talks and a planery lecture by Wendy Jonkers about designing asymmetric polyelectrolyte multilayer membranes for efficient separations!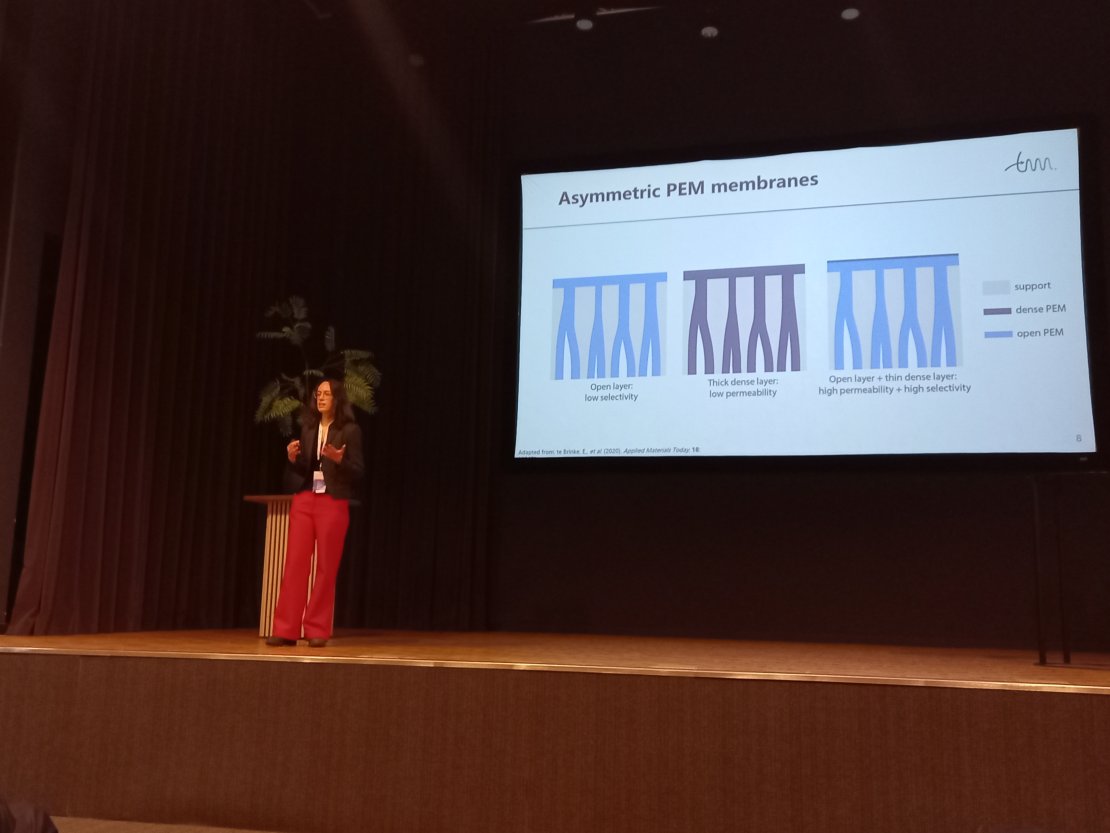 2 Million consolidator ERC grant awarded to Wiebe de vos for mosaic membranes!
Wiebe obtained a grant for 2 Million euros for his research project on mosaic membranes that are supposed to filter out micropollutants from wastewater while passing salts to avoid the formation of concentrated brines!
Wiebe: "I feel very lucky and honoured to have recieved an ERC Consolidator Grant. Together with my group, we will work on so-called charge-mosaic membranes, where alernating nanosized domains with negative and positive charges will bring unique separation properties."
More information on the project can be found in the article of University of Twente!
2022
msus welcomes two guest phd candidates and a new phd candidate to the group!
msus was present at Euromembrane 2022 in sorrento
In November, MSuS was present at Euromembrane 2022. We enjoyed sharing our work through multiple talks and a poster presentation, and had many nice discussions about membranes. We hope to see everyone at the next edition!
MSUS welcomes three new phd candidates to the group!


MSUS MASTERCHEFS- WENDY AND MATTHIJS, bag the pi-day bake-off prizes
 JERE VAN LENTE OBTAINED HIS PH.D. ON THE 17TH OF MARCH
2021
Jurjen's latest publication on Molecular Weight effects in PEM Nanofiltration Membranes
MSuS researchers present their work At euromembrane
Elif Nur durmaz defended her doctoral thesis successfully
The following accordion gives detailed information about her work:
IRSHAD defends his Ph.D. thesis and continues AT MSUS as a Postdoctoral researcher
Read on for details of his work and thesis:
Ettore virga graduates with a cum laude!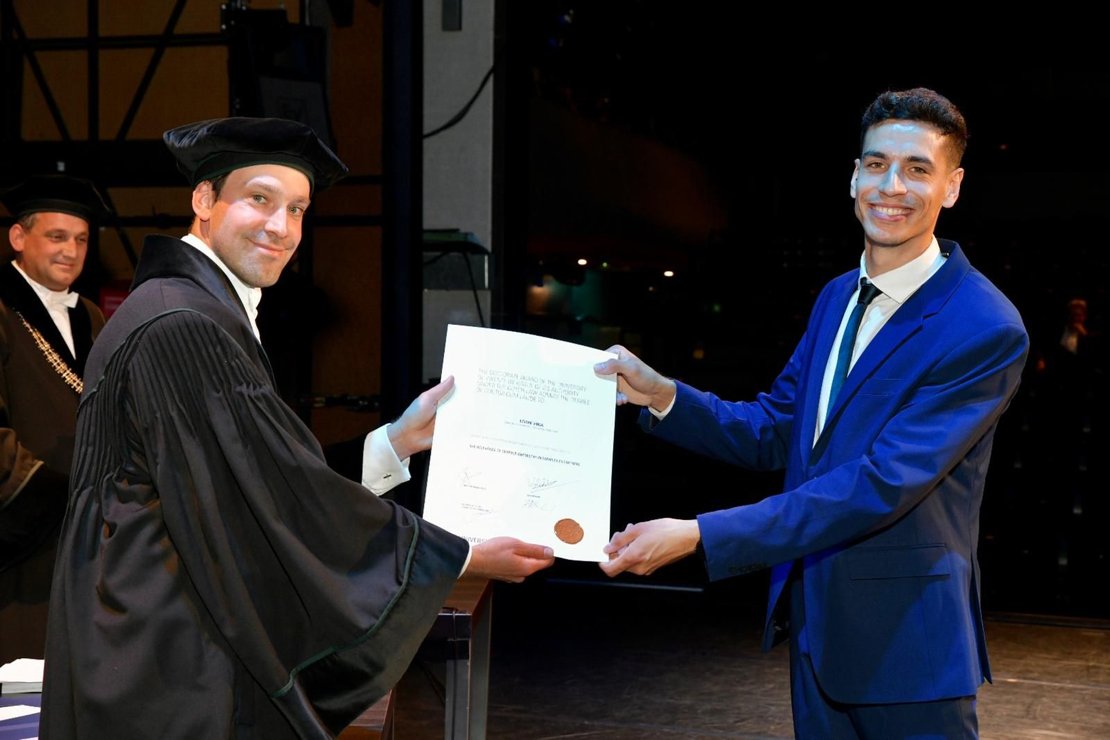 Details about his work and the defense can be found here:
Wouter Nielen successfully defends his PhD thesis
Elif reviews polyelectrolyte membranes with advanced functionalities in her latest publication
Jiaying's fresh take on sustainable packaging using polyelectrolyte complexation as oxygen barrier coatings:
Want to know a fun way to make transparent saloplastics and use them as a membrane? Check out Ameya's paper:
2020
Ettore Virga wins the Marcel Mulder award 2020. MSUS is proud!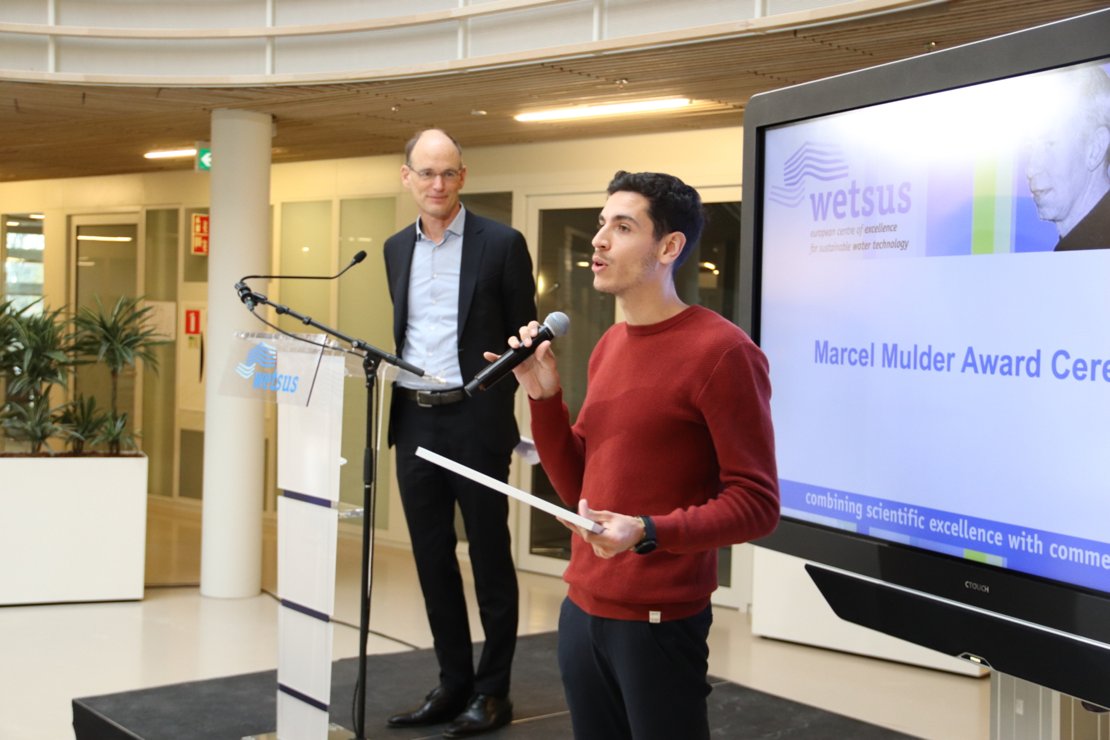 Ettore's research is part of the Concentrates Theme at Wetsus. He has invented a new generation of membranes that can prevent fouling even in the most adverse conditions. A novel zwitterionic polymer has been successfully coated on membranes to make them less prone to fouling. In this way, the industry will use less energy and chemical consumption for water filtration. The coating can be applied to any surface where fouling needs to be avoided, creating an even bigger impact.  
Ettore Virga will graduate within the standard 4 years and already has published 6 papers on his new technology, all in high ranking journals. He is now in charge of coordinating the Concentrates Theme while finishing his Ph.D. research.
in her paper, Elif DURMAZ explains how she used SALINITY CHANGE to induce AQUEOUS PHASE SEPARATION, and in turn fabricate novel Polyelectrolyte Complex Membranes! 
 TÜRKAN'S LATEST ARTICLE ON 'DEFECT-FREE HOLLOW FIBER REVERSE OSMOSIS MEMBRANES' IS UP FOR VIEWING:
Anna Marie's new review on the 'Recent Developments and Practical Feasibility of Polymer‐Based Antifouling Coatings' is online!
Irshad bags the first prize at NAMS 2020 for his poster!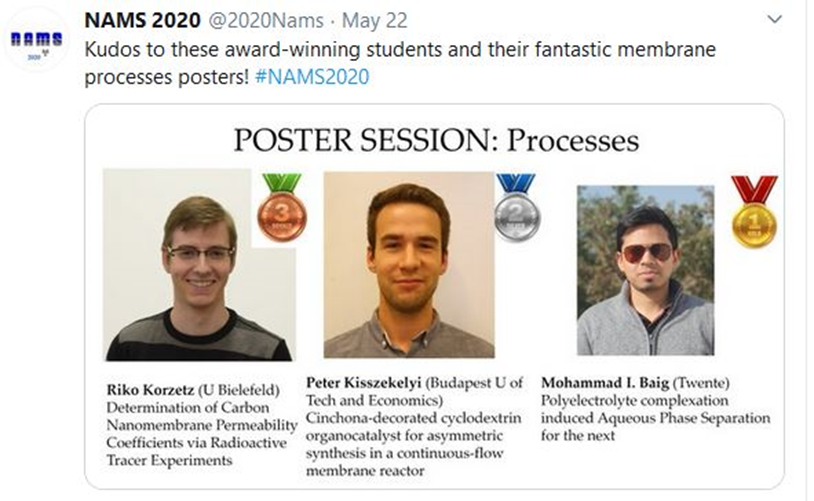 Muhammad Irshad Baig presented a poster titled "Polyelectrolyte complexation induced Aqueous Phase Separation for the next generation of sustainable membranes" at the North American Membrane Society (NAMS 2020) conference for which he received the Best Poster Award in the 'Processes' category.  In this poster, Irshad highlights a new approach to prepare Aqueous  Phase Separation membranes using a combination of strong and weak polyelectrolytes.
HOT OFF THE PRESS! Check out Wouter Nielen's latest article
Wouter's work on 'Aqueous Phase Separation of Responsive Copolymers for Sustainable and Mechanically Stable Membranes' is up for viewing!
2019
the LATEST article by Josh and Wouter is online!
Irshaid Baig's New publication in Advanced Functional materials!
And that's how we celebrated EsRa's Last day at work
PUBLICATION NEWS: ESRA's new paper!
Ameya Bysani wins 2nd prize of the David reinhoudt poster award!
News off the press! new Papers by Ettore Virga, Janneke Dickhout and Zamidi Ahmad
MSuS Day OUT! Activities, Lots of fun, and great food :)
Dr. Wiebe de Vos has featured in the crew of eye-openers! Eye-openers is an online stage for talented young scientists. Here they tell about their research, what's it about, what inspires them and what they're dreaming of. In clear language, visually stunning and in one minute only. Click the link below to watch what Wiebe has to say:
MSuS heartily welcomes three new Ph.D. candidates Jurjen, Lily, and Tao to the group!  
2018