Vector Flow imaging in Stents Promoting Swirling Flow
PROJECT ACRONYM
VFI-SWIRL
FUNDED BY
Health~Holland
POSTDOC
Ashkan Ghanbarzadeh-Dagheyan
SUPERVISORS
Erik Groot Jebbink
Michel Reijnen
COLLABORATION 
Michel Versluis
Veryan Med
CLINICAL BACKGROUND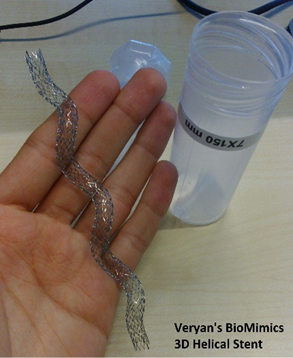 Peripheral artery disease (PAD) is a disease where plaques develop in the arteries carrying blood to the extremities. Plain balloon angioplasty of the lesion, which is a prevalent course of treatment, frequently fails and a stent is often required to hold the vessel open. In infra-popliteal disease, balloon angioplasty with bare metal stenting is associated with poor long-term patency and the frequent need for follow-up intervention. Therefore, an unmet clinical need exists for a stent to treat vessel recoil due to failed balloon angioplasty of the infra-popliteal arteries. VERYAN has developed a stent graft (BioMimics 3D) for the superficial femoral artery that focuses on mimicking the native vessel geometry, which has a helical shape. This morphology promotes swirling flow, which in turn ensures high, protective, values of wall shear stress, increasing the treatment durability.
OBJECTIVE
To close the gap between in-vitro and in-vivo blood flow quantification within swirling-flow stents.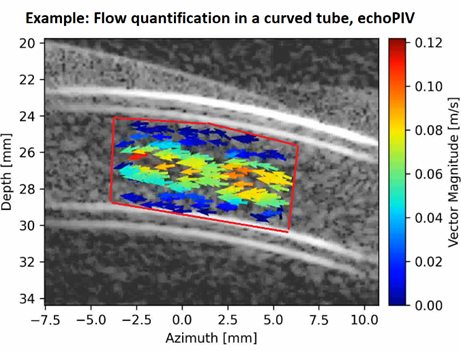 PROJECT DETAILS
Currently, the research team is working on finding a viable way to image the swirling flow inside the helical stent and thus prove their efficacy. This part of the project has two steps: (1) in-vitro imaging of flow within vessel phantoms and developing an imaging protocol to record the swirling flow, and (2) using the developed method to image swirling flow within the blood vessels of volunteer patients in a clinical setting.
PUBLICATIONS
-