Phantoms for mimicking image guidance in Radio-frequency ablation monitoring in the thyroid
PRINCIPAL RESEARCHER
Tim Boers
SUPPORT
Johan van Hespen
SUPERVISORS
Promotors: Srirang Manohar (M3I) and Michel Versluis (POF)
Co-promotor: Sicco Braak (ZGT, radiology)
FUNDED BY
ZGT CMS Wetenschapsvoucher
PROJECT GOAL
Development of an anthropomorphic phantom that can be used for ultrasound guidance evaluation in the management of thyroid nodules.
ANTHROPOMORPHIC PHANTOM
In order to evaluate and test the various transducers in a controlled setting, phantoms can be used. We develop phantoms with various characteristics to aid us in this evaluation. We have developed an ablation phantom that shows the extent of the ablation area via the use of thermochromic ink, see Figure 3. This allows for a direct comparison of the impact of the transducer on the ablation procedure. This also described in our publication shown below.
 We now focus on improving this phantom to include also dynamic characteristics and be anthropomorphic.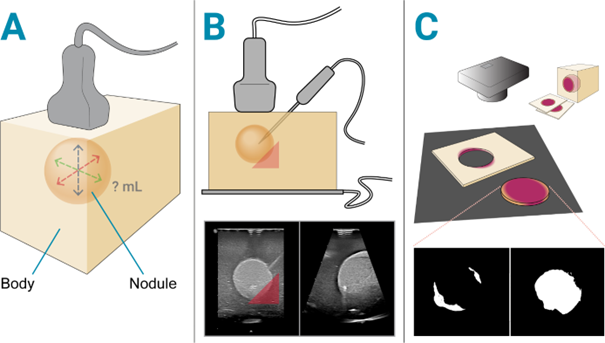 Figure 1: study work-up using an ablation phantom with thermochromic ink, from the publication shown below.
PRIMARY TOPICS
Radiofrequency ablation (RFA)
Benign thyroid tumor
Ultrasound (2D, 3D and real-time 3D)
Anthropomorphic phantom
If you are interested in a master or bachelor assignment related to the above mentioned topics, please contact Tim Boers (t.boers@utwente.nl)
PRIZES
1) ZGT Wetenschapsdag onderzoeksprijs 2021
o   https://www.zgt.nl/aandoening-en-behandeling/onze-specialismen/wetenschap/zgt-wetenschapsdag/impressie-wetenschapsdag-2021/
2) ZGT CMS Wetenschapsvoucher 2022 (50k€)
o   https://www.zgt.nl/aandoening-en-behandeling/onze-specialismen/wetenschap/wetenschapsfonds/wetenschapsfonds-2022/
CONTACT
PUBLICATIONS
Boers, T., Braak, S. J., Versluis, M., & Manohar, S. (2021). Matrix 3D ultrasound-assisted thyroid nodule volume estimation and radiofrequency ablation: a phantom study. European radiology experimental, 5(1), 1-10.