Monday 9 November 2020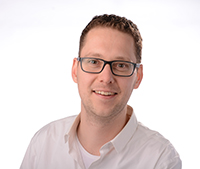 On 5 November 2020 Erik Groot Jebbink, from the Multi-Modality Medical Imaging (M3I) group, secured a Veni grant. This is a highly sought-after and prestigious personal grant for early-stage researchers after their PhD, under the Vernieuwingsimpuls program (Innovation Stimulus program) of NWO. The award of 250.000 Euro enables Erik to begin his own independent research line.
Liver cancer is the second most common cause of cancer-related deaths worldwide. Selective internal radiation therapy (SIRT), or radioembolization, is a novel, palliative, treatment option. Radioembolization relies on the local injection of radioactive microspheres that lodge in the microvasculature of the tumor and emit radiation. However, currently there are no imaging tools available for use during the SIRT procedure that can visualize the microspheres to accurately plan, perform and verify the microsphere injection.
In his Veni proposal Erik proposes to augment the current treatment outcome, by introducing dynamic contrast enhanced ultrasound as an innovative approach to enhance patient-specificity of radioembolization therapy. Effectively the injected microbubbles will guide the microsphere injection during treatment, thereby developing a real-time, ultrasound based, iterative procedure. Ultimately, this will determine a patient-specific strategy in the SIRT procedure, that will lead to accurate irradiation of liver tumors, thereby increasing the overall survival rate and the patients quality of life.
https://www.nwo.nl/nieuws/nwo-veni-van-250000-euro-voor-161-onderzoekers