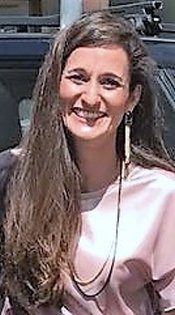 Assistant professor
Building: Technohal (No. 18 on the map)
Room:  3383
Phone:+31534891802
E-mail: m.frega@utwente.nl
General information
Monica Frega studied Bioengineering at the University of Genova (Italy). In 2014, she received her PhD in Bioengineering from the University of Genova, on the thesis "Neuronal network dynamics in 2D and 3D in vitro neuro-engineered systems", carried out under the supervision of prof. dr. Sergio Martinoia.  
After her PhD, she decided to move to Nijmegen. Between 2014 and 2018, she worked as a postdoctoral researcher in the group of prof. dr. Nael Nadif Kasri at RadboudUmc, where she applied her expertise in bioengineering to state-of-the-art stem cell biology to study neurodevelopmental disorders. While her academic path and PhD allowed her to develop engineering and technical capabilities, during the Post Doc she acquired expertise in stem cell biology. Through these working experiences, Monica Frega became a truly interdisciplinary researcher.
In 2018, Monica Frega joined the University of Twente as Assistant Professor in the Clinical Neurophysiology group.
Research interests
Her research mainly focuses on neurological disorders, with the aim to bridge the gap between research and clinic. To do so, she mainly uses human Induced Pluripotent Stem cells (hiPSCs) and micro-electrode arrays (MEAs) technologies. hiPSCs from healthy subjects and patients with neurological disorders can be differentiated into neurons and can be grown on MEAs, to study the initial development and progression of the pathophysiology and to perform drug testing. This human in vitro model allows to unravel the biological mechanisms that contribute to the patient-specific phenotype and to move from a disease-specific to a patient-specific treatment strategy, paving the way for precision medicine.
Key publications
Frega, M.*, van Gestel, S.*, Linda, K., Keller, J., van der Raadt, J., Albers, C., Nadif Kasri, N. (2017). Rapid neuronal differentiation of induced pluripotent stem cells for measuring network activity on micro-electrode arrays. J. Vis. Exp. e54900, doi:10.3791/54900 *Equal contribution.
Frega, M.*, Martens, M.*, Classen, J., Epping, L., Benevento, M., van Bokoven, H., Tiesinga, P., Schubert, D., Nadif Kasri, N. (2016). Epigenetic regulation by Euchromatin histone methyltransferase 1 controls neuronal activity during development. Scientific Reports, 6, 35756. *Equal contribution.  
Benevento, M., Iacono, G., Selten, M., Ba, W., Oudakker, A., Frega, M., Keller, J., Mancini, R., Lewerissa, E., Kleefstra, T., Stunnenberg, H., Zhou, H., van Bokhoven, H., Nadif Kasri, N. (2016). Histone methylation by the Kleefstra Syndrome protein EHMT1 mediates homeostatic synaptic scaling. Neuron, 91 (2), 341-355.
Tedesco, M., Frega, M., Martinoia, s., Pesce, M., Massobrio, P. (2015). Interfacing 3D engineered neuronal cultures to Micro-Electrode Arrays: an innovative in vitro experimental model. J. Vis. Exp., e53080, doi: 10.3791/53080. 
Frega, M., Tedesco, M., Massobrio, P., Pesce, M., Martinoia, S. (2014). Enhanced network dynamics in 3D engineered neuronal cultures: a new experimental model for network electrophysiology. Scientific Reports, 4, 5489. 
Colombi, I., Mahajani, S., Frega, M., Gasparini, L., Chiappalone, M. (2013). Effect of antiepileptic drugs on hippocampal neurons coupled to Micro-Electrode. Frontiers in Neuroengineering, 6, 1-11.
Frega, M., Pasquale, V., Tedesco, M., Marcoli, M., Contestabile, A., Nanni, M., Bonzano, L., Maura, G., Chiappalone, M. (2012). Cortical cultures coupled to Micro-Electrode Arrays: a novel approach to perform in vitro excitotoxicity testing. Neurotoxicology and Teratology, 34, 116-127.