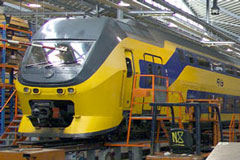 Project Type: Master assignment
Company: NedTrain, location Haarlem
Student: Sabine Mooij
Background: Management of Product Development, Master Industrial Design Engineering
Mentor: Wienik Mulder, MSc
Background company
NedTrain is a subsidiary of the Dutch railway operator NS and provides maintenance and overhaul services on rolling stock (for example trains, trams or metros). NedTrain's location in Haarlem is responsible for large scale Refurbishment and Overhaul (R&O) projects of railway coaches.
In an R&O project several technical systems (such as the climate system or compressor) and the interior of the train are being upgraded or renewed. An R&O project of a train is aimed at adjusting the railway coaches to today's comfort, safety and technical standards to ensure a reliable, safe and comfortable journey for its future passengers. The development and design of the modifications as well as the overhaul and refurbishment of the coaches itself, are performed at NedTrain's location in Haarlem.
Introduction to the research topic
NedTrain notices an increasing attention for Reliability, Availability, Maintainability (RAM) and Life Cycle costs (LCC ) requirements for R&O projects. Therefore, it has started the implementation of methods and tools to ensure that RAM and LCC get explicitly attention in the design phase of R&O projects. NedTrain looks for possibilities how this can be further improved.
Research objective
The objective of this assignment is to evaluate the current way NedTrain addresses RAM and LCC in their design activities, to identify opportunities for improvement and to provide an advice to guide a first step of improvement.
Research activities
Analysis of the current way NedTrain R&O addresses RAM and LCC in their design activities
Conducting a literature review on key factors for successful implementation of RAM and LCC in design activities
Development of a maturity model in order to identify opportunities for NedTrain to improve the implementation of RAM and LCC in their design process
Formulation of recommendations for further improvement
Providing an advice to guide a first step of improvement