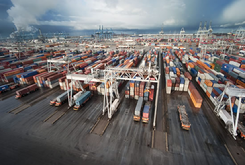 Level: Bachelor or Master student
Company: ECT Delta Terminal B.V. (Rotterdam)
Student: Zhe Chuan Ooi
Mentor: Dr.ir. Rob Basten
Assignment: ECT wil doelbewuste keuzes maken op het gebied van onderhoud van zijn assets, zoals:
Besparen op onderhoudskosten
Hogere beschikbaarheid
Betere betrouwbaarheid
Betere kwaliteit uitgevoerd werk
Milieubewust produceren
Duurzaamheid
Dit vraagt om een Total Life Cycle Management benadering, het managen van assets over hun gehele leven.
Om beslissingen te kunnen rechtvaardigen betreffende modificaties, revisies en vervangingen moet er inzicht komen in de kostenontwikkeling van assets gedurende hun leven.
Onderzoek de kostenontwikkeling van de belangrijkste technische systemen van assets over hun verwachte levensduur (nog aan te wijzen welke assets).
Tasks:
Maak een model (of database) waarin de Total Cost of Ownership van assets over de tijd wordt weergegeven (visueel op een tijdsbalk).
In het model wordt gebruik gemaakt van netto contante waarde.
Monte Carlo simulaties om ondanks de onzekerheid betreffende de levensduur van de technische systemen in het model toch beslissingen te kunnen rechtvaardigen.
Zorg dat er vanuit het te ontwikkelen model tijdig inzicht is in de momenten met hoge kosten waarop de afweging voor vervanging of revisie gemaakt moet worden.