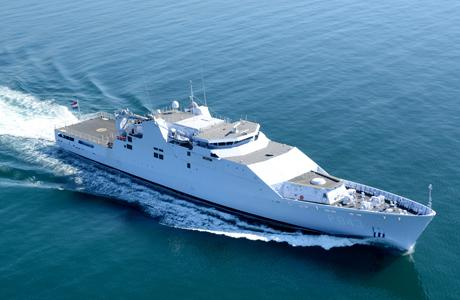 COMPANY DESCRIPTION
Damen Schelde Naval Shipbuilding (DSNS) is a naval shipyard located in the city of Vlissingen in The Netherlands. It was founded in 1875 under the name "Royal Schelde". Since 2000 it is a member of Damen Shipyards Group, which consists of more than 30 major shipyards and operating companies around the world. Damen Group has built more than 4,000 commercial and military vessels, currently employs nearly 8,500 people and has nearly 1.5€ billion in annual turnover in 2012.
INTRODUCTION TO THE PROBLEM
Planning maintenance in an optimal manner is of high importance to DSNS. In order to do so, the stochastic degradation of the systems onboard, prone to both random stresses as well as material deterioration, should be examined. That is, most systems are subject to failure, mostly due to the challenging operational conditions onboard, rather than ageing. For this reason, the majority of naval systems are maintained by executing Condition Based Maintenance (CBM), by which the system degradation is evaluated via scheduled monitoring intervals, and according to the system condition, a suitable maintenance decision is made. Therefore, it is natural when optimizing maintenance, to refer to the optimal determination of CBM intervals. Lastly, the latter should be done with respect to the two major system requirements: availability and Life Cycle Cost (LCC).
RESEARCH OBJECTIVES
So far, maintenance planning is done only with suppliers' information and experts' opinions. Operational data can be obtained only during the warranty support period of the vessels; however, these data are not subject to statistical or reliability growth analysis. Furthermore, the stochastic failure nature is not taken into account.
The goal of this project is to generate a good model to predict failure occurrence, and consequently the best CBM intervals, under LCC and availability restrictions. The task is to answer question such as:
What is the reliability growth of the systems, based on monitoring data?
What is the Remaining Useful Life (RUL) interval for each component, for which CBM actions should be implemented?
How can the deterioration, inspection and CBM (i.e. minimal, imperfect, perfect) states, be incorporated into one model, which also takes into account random component failures for each system?
Which are the optimal Mean Times Between Inspection (MTBI) for each system that maximize the system availability?
At what times should minimal, imperfect and perfect maintenance be performed, such that the respective costs are minimized?
Which system(s)' maintenance activities overlap with mission intervals, and what is their effect on the vessel's availability?
How can the above mentioned maintenance activities, which have a significant effect on vessel's availability, be scheduled to avoid overlap with missions?
MORE INFROMATION
Dr. ir. Rob Basten
SHORT DESCRIPTION
The goal of this project is to create a maintenance decision-making tool that minimizes the total life cycle (LC) costs for crucial naval systems' platform subcomponents under condition based maintenance (CBM). This will be done using a stochastic deterioration model for the subcomponents. CBM actions will be classified as minimal (system remains at the same deterioration condition), imperfect (system returns to a previous deteriorating condition), and perfect (system is considered "as good as new").