MOOC: Distance education at UT
Learning with students from all over the world. It can be done through MOOCs, i.e., massive online open courses, which are offered free of charge by universities across the globe. The University of Twente also offers some courses for free in specific key areas.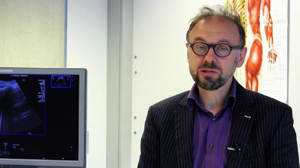 In October 2015 the department of Technical Medicine released the first ever Twente-based online course, entitled 'Ultrasound Imaging: What Is Inside?'. Wiendelt Steenbergen (pictured here) is the lead educator for this course.
Wiendelt Steenbergen and Ineke ten Dam told us what they learned from establishing their MOOC. Read the article.
This and other courses from the University of Twente can be accessed through the FutureLearn platform. Check out which other MOOC's available for free from the University of Twente.