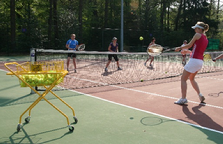 We have two tennis courses available, the tennis course for Absolute beginners and the course for beginners. 
The Absolute beginner course is for people who are going to try tennis for the first time. The Beginner course is for people who tried tennis, but have a beginner level.  
Program 2019-2020
Day/time:

Tuesday 17.00-18.00h (Abolute beginner)

OR
Tuesday 18.00-19.00h (Beginner)

Level:

Absolute beginner/Beginner

Duration:

9/10 weeks

Starts:

3 September 

Costs:

€25,- for UnionCard holders




€35,- for CampusCard holders (employees UT and external) 

Location:

Tennis courts Campus UT  

Instructor:

Jolijn Bussink
Course periods:
1. 2 September - 8 November
2. No course in period 2!
3. No course in period 3!
4. 13 April - 19 June
REGISTRATION:
The online registration will start two weeks before the start of the course. Login to the DMS website and click for the courses on What's on offer.

All information about the registration can be found here.
More information?
Tel: 053-4891148
E-mail: secr-sport@utwente.nl