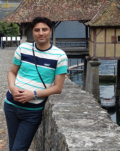 In this thesis, reducing the release of emerging micropollutants (MPs) into the surface water, is the center of focus. 'The potential risk of MPs, constantly discharged from municipal wastewater treatment plants, is now under active evaluation among researchers worldwide.,' Seyed Mehran Abtahi Foroushani says.
To broaden such knowledge, two advanced treatments were studied: bioaugmented moving bed biofilm reactors (MBBRs) and polyelectrolyte multilayer (PEM)-based nanofiltration (NF) membranes. The main aim was to elucidate their potential for the elimination of several MPs (Diclofenac, Naproxen, 4n-Nonylphenol, 17ß-Estradiol, and Ibuprofen) from conventionally-treated municipal wastewater.
Three identical lab-scale MBBRs, each with an effective volume of 3.1 litre, were operated in the continuous mode of operation . 'Individual contributions of the biofilm and suspended biomass in MPs removal were determined,' Mehran says. 'Subsequently, we could obtain abiotic and biotic removal of MPs along with their dominant biodegradation mechanisms.'
Sorption of MPs onto the suspended biomass was seen around two times more than the biofilm, while the biofilm was more powerful in the elimination of all MPs. 'When comparing abiotic and biotic aspects, biotic removal outperformed its counterpart for all tested pollutants,' Mehran concludes.
Meanwhile, two out of three MBBRs were inoculated by pseudomonas-fluorescens, with a novel protocol, and operated under identical conditions, with the non-bioaugmented (control)   MBBR. Bioaugmented MBBRs showed a high potential for the elimination of target MPs (in particular Diclofenac). 'However, this technology still needs further detailed research, to overcome existing challenges,' Mehran says. 'I hope future researchers will take on this approach and bring applications closer to today's market.'
Mehran is even the more enthusiastic about the second direction of research within his PhD project: MPs removal by Polyelectrolyte multilayer (PEM)-based nanofiltration (NF) membranes.
PEMs are prepared by alternately adsorbing the oppositely-charged polyelectrolytes onto the supports, using a layer by layer (LbL) technique. 'PEMs of two weak polyelectrolytes were used: poly(allylamine hydrochloride) (PAH) and poly(acrylic acid) (PAA),' Mehran says. 'Two types of ultrafiltration (UF) supports (hollow fiber silica (HFS) and flat-sheet polyacrylonitrile (PAN) membranes) were used for the surface modification.'
Promising technology
A quite high removal of MPs, combined with the production of a low-saline concentrate stream, was achieved by PEM-based NF membranes.
Mehran: 'Also, easy cleaning of both PEMs and foulants without employing any physical force, was achieved. This makes PEMs a promising technology for advanced wastewater treatment. Especially promising are cleaning strategies making use of a sacrificial layer approach for these membranes. To provide another function to such a membrane, development of an antibacterial coating can be proposed in future. Again, I hope future researchers will take these results further, and proceed experiments under full-scale conditions.'
Although further research is still necessary, Mehran slightly favours the membrane approach as the strongest candidate for these types of water treatment. 'When comparing PEM-based membranes and MBBRs, we see that such membranes need lower energy and are less sensitive to the operational conditions. Nevertheless, this PhD thesis leads in elucidating the point that an integrated layout of bioaugmented MBBR and NF would be very efficient in MPs removal.'
Pioneer
Mehran was happy that after his extensive experiments, he was able to publish his findings in the Journal of Membrane Science. He and his colleagues have also another article submitted in the journal of Separation and Purification Technology.  'Being one of the pioneers in this newly-born field, the research was quite demanding,' Mehran says. 'I enjoyed finally presenting my findings at conferences all over the world, for example in Singapore, Vienna and San Francisco. The massive response from fellow-researchers to this innovative approach was heart-warming.'
EUDIME
This PhD project was undertaken together with the University of KU Leuven (Belgium) and the University of Toulouse (France) where Mehran defended his dissertation. Within Mesa+ he collaborated with the Membrane Science and Technology (MST) Group, collaborating with Professor Erik Roesink  and Professor Wiebe M. de Vos. 
'My work was accomplished under the framework of the EUDIME program funded by the European Union. Also, two French companies "VeoliaWater Technologies" and "Biovitis" were financial supporters of the thesis,' Mehran tells. 'The inspiration came from the situation in my home country of Iran. Water shortage is becoming a serious environmental concern in many areas in Iran. Development of advanced water reuse strategies and technologies is inevitable in Iran. Because, after graduation from Master of Science in Environmental Engineering, I worked in an engineering company for five years in the field of water and wastewater treatment, I was completely familiar with those anxieties which led to write a well-achievable EUDIME proposal.'
'I truly enjoyed working at Mesa+, possessing very well-equipped labs. All was very well-organised here, including the internal organisation and complex paperwork that was involved in the project. Therefore, I could really focus on my work. During the whole project, I learnt a lot from Erik Roesink and Wiebe M. de Vos. Even, when I was in France and Belgium to work on other parts of the PhD project, I had plenty of Skype meetings with Wiebe to take steps forward.'
Academics
After his PhD, Mehran favours a job in academics. 'Unlike in industry, I am every day in a new challenge  here,' he says. 'In a post-doc position I hope to further work on my skills. Hopefully in the future, I can contribute to the development of my home-country as a researcher and professor, to perform innovative research that will be commercially applicable in the market.'