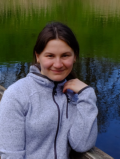 In this thesis nanogap devices were studied using amplification through redox cyling of analyte molecules between two parallel, closely spaced electrodes.
'These electrochemical detectors are at the highest level of miniaturization,' says Zinaida Kostiuchenko. 'They operate with very tiny sample volumes, in the order of femtoliters, and are able to detect low concentrations down to single molecules.'
Integration of these detectors in a fluidic system is essential for practical purposes. However, the presence of convective flows introduces extra complexity into the analysis of experimental results. Therefore, in this thesis, mass transport in nanochannels is considered, and its coupling with redox cycling processes.
Mass transport in a nanofluidic channel under the condition of pressure driven flow, using a two-electrode generator/collector configuration, was studied first. 'We demonstrated that our nanofluidic system is truly one dimensional. We observed very good agreement between experimental results and analytical calculations,' Zinaida says.
Further, the operation of nanogap devices under the condition of pressure driven flow, was examined. 'Several possible sources for local and non-local changes of the value of the redox current appeared,' says Zinaida. 'We analysed the impact of each of them. We measured a clear presence of streaming potentials at salt concentrations of 100 µM and lower. This feature is of vital influence when the concentration of the supporting electrolyte is low.'
Zinaida enjoyed exploring new domains of physics, electrochemistry and microfluidics within this area of research. 'Almost everything was completely or partial new to me,' she says. 'That was one of my goals when I started the PhD project. It was never boring, and I learned a lot of new skills.'
Bipolar electrode
In the last chapter, Zinaida combined both numeric and analytical modelling techniques in order to explore a different electrochemical system, consisting of a bipolar electrode imbedded in a membrane.
The fluctuations in the number of electrons and the potential due to reduction and oxidation processes occurring at the electrode ends, were quantified. Zinaida: 'We argue that for the smallest nanosized electrodes, it is possible to achieve one-to-one coupling between the oxidation and the reduction of single molecules at the opposite sides.'
Fundamental aspects
In this PhD project, funded by National Institute of Health, Zinaida studied a variety of aspects of electrochemistry within confined environments in which nanogap devices function.
'The main direction was to ensure that the technique is feasible to be used in practice,' she says. 'On this road we met fundamental aspects and some new levels of complexity, demanding new modelling, simulation and experimentation strategies. During the PhD I have learnt to be flexible in expectations regarding experimental results. Sometimes you are disappointed by the outcomes, but these also add to developing your knowledge and view of the field.'
Future
During the PhD, Zinaida found the Mesa+ seminars practical for learning more about the research going around and getting new ideas.
As a future job, Zinaida wishes to broaden her horizon. 'I am not sure yet if my work will fit best in academia or in industry,' she says. 'I'm going to apply for a job in industry first. Preferably I would like to develop my programming and modelling skills, to apply them in R&D, together with my experimental skills. I am convinced I may be of practical added value within quite some industrial sectors.'