BEYOND 3G
Long-term forecasts on technology developments tend to be rather inaccurate. However it seems to be consensus on the fact that new technologies should locate the user at the center, improving quality of life and adapting to the individual and without need of awareness of the implementation details. The environments will become smarter, more responsive, and more accommodating to the needs of the individual. Future technologies will provide location-dependent services and will introduce new levels of personal safety. 
The evolution towards ubiquitous access will be accompanied by the development of new user interfaces, reacting to our identity, and even sensing our mimic aspects as posture and gesture. Besides the evolution of traditional applications (as messaging, file transfer, and web browsing), future technologies will enable many new applications and applications domains, ranging from public health and traffic safety to networked games and virtual reality. 
Future networks should provide ubiquitous and seamless access to information, communication and control. The network will be wireless at the edges and there will be a wide deployment of wireless portable devices. Cars, household and office equipment will have wireless interfaces. There will be many devices connected to a network of some form and working in co-ordination with other devices, services, and network-enabled entities.
The above conception of the future imposes very demanding technology requirements. The communication facilities should be globally available and highly reliable. They should be able to support a huge number of users and communication devices simultaneously and to provide suitable bandwidth and seamless mobility. New technological developments should be at reach to the common citizen, meaning that cost-efficiency is an important requisite.
Many research problems need to be addressed in the evolution path from present technologies towards future mobile networks. In order to achieve global coverage, mobility, and at the same time efficient support of many diverse applications, the various wireless technologies that have been designed and optimised for a specific purpose will coexist and complement each other. This will require seamless integration of different networks, in conjunction with multimode terminals and base stations. The trend for increasing bandwidth demand together with the arrival of new wireless applications will require the development of new techniques to substantially increase the communication capacity and to provide flexible allocation of the scarce wireless resources. The solutions should be flexible and scalable. This together with the need for reduction of running costs will require research on issues as self-configuration and self-organisation techniques. The support of personalised applications will require new developments and paradigms for user interfaces, profiling and applications. All these issues are perceived as the key research issues for the evolution path towards mobile generation beyond 3G by industry and academy.
However, at this moment even when it is possible to access to information and communication facilities via different technologies and networks, the procedure is time consuming and user unfriendly, and it often involves different communication devices. In many cases, the absence of suitable communication capacity makes some applications impossible. Besides, the lack of enough security guarantees prevents the adoption of mobile access to serious business applications. 
The project Beyond 3G aims at finding those enhancements of future wireless technologies for enabling the secure provision of ubiquitous seamless wireless access to the corporate ICT facilities. The idea is depicted in Figure 1. By integration of various wireless technologies, business users will be able to access the network facilities with their notebooks independent of location and speed and in the same way they do at the enterprise premises. The integration of these systems should be seamless, meaning that from the point of view of the user, switching from one technology to the other is imperceptible and the level of security is maintained.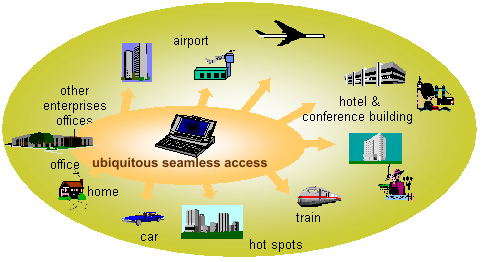 Figure 1: BEYOND-3G will allow seamless mobile access: one will be able to use one�s applications anywhere, with good experienced quality