Welcome to MFHS2024
THE 5TH CONFERENCE ON MICROFLUIDIC HANDLING SYSTEMS; 21-23 February 2024, Munich, germany.
Worldwide, accurate handling — i.e. analysis, dosage, measurement and control — of small and extremely small flows of both gases and liquids is becoming more and more important, driven by numerous applications. Examples of economically and societally relevant applications are e.g. medical multi-infusion systems, respiratory systems for patients with lung diseases, equipment for high-pressure liquid chromatography (HPLC) and mass-spectrometry (MS), flow and pressure control in organ-on-a-chip systems, research on catalysts, energy content measurement in (mixtures of) fuel gases including biogas and hydrogen, dosage systems for accurately dosing additives like e.g. vitamins to food and beverages, production of specialty baby food with high nutritional value, production of vaccines and pharmaceuticals by means of flow chemistry and fermentation, and production of solar cell panels with CVD and ALD processes.
Whether in analytical instrumentation, flow chemistry, energy, semiconductor industry, food and beverage or life sciences – microfluidic handling systems are facing several major trends: (1) a need for accurate measurement and calibration facilities; (2) a need for complete functional systems rather than for the individual components; (3) commercialisation of academic research results; (4) standardisation of fabrication technology & materials, modules & connections, and quality assurance & test equipment; (5) cross-overs between technologies, e.g. microfluidics and electronics, and microfluidics and robotics, and last but not least (6) the rise of machine-learning enhanced fluidic systems.
In the future, the impact of this field of research may become even bigger and potentially large target markets may arise, especially when spin-off companies start manufacturing and selling their products, systems or pilot plants.
The focus of this conference is mainly on the technology, components, devices and systems that enable the application in microfluidic systems. We invite submission of papers on systems and devices for accurate handling (e.g. dosing, measurement, analysis and control) of (extremely) small flows of both gases and liquids, and corresponding measurement and control principles, including cross-over technologies with e.g. electronics and robotics, and machine learning enhanced fluidic systems.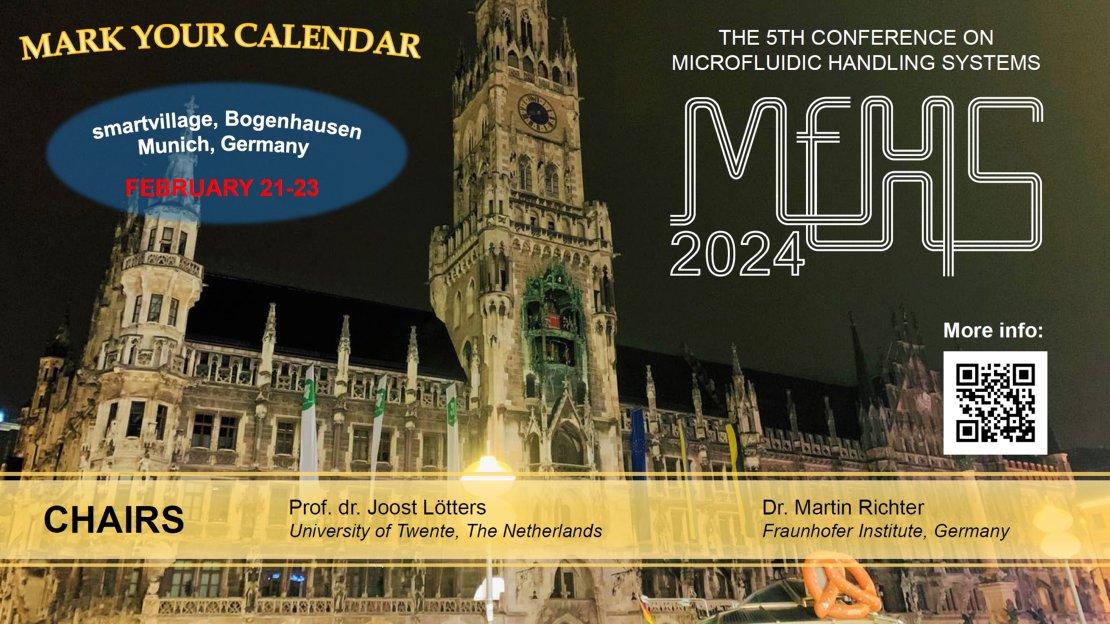 Important dates
| | |
| --- | --- |
| 9 October 2023 | Deadline for abstract submission |
| 13 November 2023 | Notification of acceptance |
| 15 January 2024 | Late news submission |
| 29 January 2024 | Extended abstract submission |
| 21 - 23 February 2024 | MFHS2024! |
Previous conferences
The MFHS conference was organized previously in 2012 (Enschede), 2014 (Freiburg), 2017 (Enschede) and 2019 (Enschede)
The best papers from these conference were selected for a special issue of MDPI Micromachines: special issue 2012, special issue 2014, special issue 2017, special issue 2019.