An EU research project, called PERSSILAA with 8 international partners and a budget of 2.5 million Euros will run over the next three years. PERSSILAA stands for PERsonalised ICT Supported Service for Independent Living and Active Ageing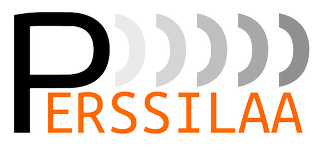 PERSSILAA aims at development and validation of a new service model, to screen for and prevent frailty in community dwelling older adults, integrating nutrition, physical and cognitive function.
For this PERSSILAAs main focus is to
•develop remote service modules for screening, monitoring and training of elderly in their own daily environment to support them in physical and cognitive functioning and healthy nutrition.
•innovate the way our care services are organized from fragmented reactive disease management into preventive personalized services offered through local community services, supported by a proactive team of caregivers and health professionals and integrated into existing healthcare services.
•realize a technical service infrastructure to support these multiple services and users in an efficient, reliable, easy to use way and therefore works on gamification, interoperability and clinical decision support.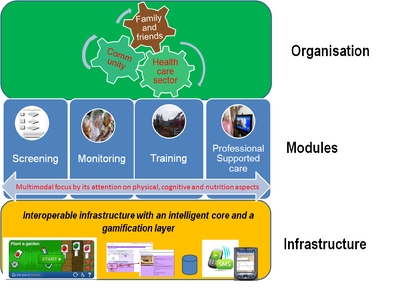 Large scale valdation
PERSSILAA services will be provided via the community and is seamlessly integrated with the care sector. Validation will be performed in two regions; the Enschede region in the Netherlands and the Campania region in Italy. Validation is an ongoing process throughout the whole project. A small group of older adults (> 65) will enroll in the study in the first year and recruitment will continue until a total of 350 participants. All older adults will remain in the study for the duration of the project and will be offered more advanced and appealing set of services in an even better organized way using a more and more integrated, easy to use and attractive technical infrastructure as the project moves on. Outcomes focus on end user satisfaction, quality of life, risk on hospitalization and cost effectiveness. Results of the continuous end user evaluation and intensive feedback will ensure the implementation of a highly accepted, high quality service.
PERSSILAA does not start from scratch but builds on activities within European Innovation Partnership on Active and Healthy Aging and on results of various earlier European projects.
Partners
The consortium (8 partners/5 countries) provides a unique skills mix, merging social, medical and technological sciences with industry, academia and end user organisations being University Twente (Coordinator), Roessingh Research and Development, Azienda Ospedaliera Universitaria Frederico II, Universidad Politecnica de Madrid, Da faculdade de ciencias da universidade de Lisboa, University College Cork National university of Ireland, Cork, Fundacio Privada Institut de Neurorehabilitacio Guttman, Nexera SPCA, Societa consortile Perazioni
Further information
Miriam Vollenbroek-Hutten, Professor (Coordinator), University of Twente, tel xx31-53-4875777