Introduction
The aim of the project is to develop so far unrealized nanofluidic components for lab on a chip issues that allow the modification of ionic transport and concentration distribution by means of interaction of external electrical fields with electrical double layers.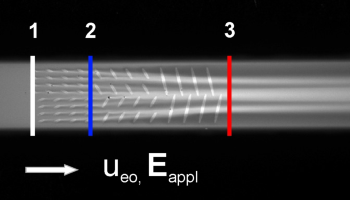 Electrokinetic mass transport by electroosmotic convection and ionic conductance in nanometer-confined fluidic systems significantly deviates from conventional micrometer-sized geometries. The reason is that in nanochannels at least one spatial dimension reaches the order of magnitude of the electric double layer resulting in strong electric potential drop over the complete channel. This electric potential barrier strongly influences concentration distribution and transport properties of ionic species. The training objectives are the experimental realisation of ion-gating fluidic devices, the quantitative elucidation of the underlying transport phenomena and their application in complex fluidic systems. Increased attention is paid to the elucidation of quantitative data on ionic mass transport. For this purpose, geometrically well-defined model systems will be fabricated that allow the direct correlation of material properties to molecular transport coefficients by means of optical probing techniques and electrical conductivity measurements. Finally, the projects aims in the development of molecular valves for ionic molecules, a feature that can only be realized by integration of nanofluidic components into microfluidic systems.
Interested?
If you are interested and for instance would like to do your graduation work or practical term, please contact via the email address below.
Contact informationrmation contact: