Introduction
In this project fluid manipulation for micro chemical systems is studied. The focus is on nanofluidic devices and networks, made by thin film Integrated Fluidics ("IF") technology. This technology is developed in close collaboration with the Micro Mechanical Transducers Group ("MicMec"). Silicon nitride channels are formed by sacrificial KOH-etching of poly-silicon strips sandwiched between silicon nitride layers [4]. Fig. 1 shows an example of such a channel crossing a larger channel, the latter made by anisotropic KOH-etching of the mono-crystalline substrate.
| | |
| --- | --- |
| | |
| a) | b) |
Figure 1: Microchannel made by sacrificial KOH-etching of poly-Si, crossing a channel made by anisotropic KOH-etching of the mono-crystalline substrate. a) Overiew, b) Close-up near the entrance of the microchannel
To activate nanofluidic networks a pump has been realized, the bubble pump [6,7]. Its operation is based on the surface tension directed injection of gas (fig. 2).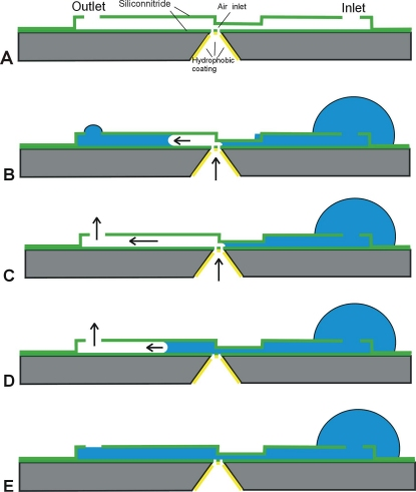 Figure 2: Longitudinal cross section of a microchannel explaining the principle of operation of the bubble pump. (A) The microchannel includes a liquid inlet and outlet and a gas injector. The injector is located at the position where the channel height changes. (B) Injected gas will move toward the higher channel part, because there the capillary counter pressure is lowest. (C) Once the gas reaches the outlet it will flow out of the microchannel and a temporary gas flow is maintained. (D) When the gas pressure drops the microchannel will refill by capillary forces. (E) Fully filled.
Publications
| | |
| --- | --- |
| [1] | N.R.Tas, T.S.J. Lammerink, P.J. Leussink, J.W. Berenschot, H-E. de Bree, M. Elwenspoek, Towards Thermal Flowsensing With pL/s Resolution, SPIE Micromachining and Microfabrication Conf., Micromachined Devices and Components VI, 17-20 Sept. 2000, Santa Clara, CA, USA, SPIE Proc. vol. 4176, pp. 106-121 (Invited Presentation) |
| [2] | N.R.Tas, R.E.Oosterbroek, M.Elwenspoek and A.van den berg, New Technologies for Nano-and Micro-Chemical Systems, Proc. 4th Ann. Eur. Conf. on Micro and Nanoscale Techn. for the Biosciences, Nanotech 2000, Nov. 26-30 2000, Montreux, Switzerland. |
| [3] | M.T. Blom, N.R. Tas, G. Pandraud, E. Chmela, J.G.E. Gardeniers, R. Tijssen, M. Elwenspoek, A. van den Berg, Failure Mechanisms of Pressurized Micro Channels, Model and Experiment, J. Microelectromechanical systems, vol. 10, no. 1, March 2001. |
| [4] | J.W. Berenschot, N.R.Tas, T.S.J.Lammerink, M. Elwenspoek, and A. van den Berg, Advanced Sacrificial Poly-Si Technology for Fluidic Systems, The 11th Int. Conf. On Solid -State Sensors and Actuators (Transducers '01), Munich, Germany, June 10-14, 2001, pp. 624-627. |
| [5] | T.S.J.Lammerink, N.R.Tas, J.W. van Honschoten, G.J.M. Krijnen, J.J.. van Baar, and M. Elwenspoek, AC-Driven Temperature-Balance Flow Sensor, The 11th Int. Conf. On Solid -State Sensors and Actuators (Transducers '01), Munich, Germany, June 10-14, 2001, pp. 1448-1451. |
| [6] | N.R.Tas, J.W. Berenschot, R.G.P. Sanders, T.S.J. Lammerink, M. Elwenspoek, A. van den Berg, Bubble pump for integrated nanofluidics, IEEE NANO Conf., Maui, Hawaii, 28 - 30 October 2001, pp.454-458 |
| [7] | N.R.Tas, J.W. Berenschot, T.S.J. Lammerink, M. Elwenspoek, A. van den Berg, Nanofluidic bubble pump using surface tension directed gas injection, accepted for publication in Analytical Chemistry. |
Contact Information